Behind Blue Ant's growing distribution business
Ahead of MIPCOM, EVP Solange Attwood talks about how international expansion, new lines of business and closer collaboration with third-party prodcos has facilitated growth.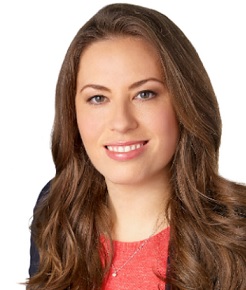 Since launching at MIPTV in 2014 with a catalogue of around 600 hours, Blue Ant Media's distribution and sales arm has morphed from a one-person Toronto operation to a cross-continent business with a catalogue of more than 3,500 hours.
And while it was previously focused exclusively on natural history and unscripted fare, the company has diversified its slate over the past 18 months, adding kids and family content to its remit, and burrowing deeper into the scripted space with bigger-budgeted series such as Sidemen (7 x 30 minutes), commissioned by YouTube in June.
The show, produced via Blue Ant's L.A.-based digital arm Blue Ant Digital Studios and its U.K. subsidiary Antenna Pictures, is among a content slate of 250 hours that EVP Solange Attwood (pictured) and her team are taking to this year's MIPCOM. And as the company looks to diversify its offerings in an increasingly crowded international marketplace, it has separated its content offerings into five distinct areas of focus: factual, nature and wildlife; "high-impact" documentary; kids and family; and scripted and digital.
Haunted Case Files (Our House Media), Hellfire Heroes (Pixcom) and Lakefront Luxury (Architect Films) are among the projects on its factual slate, the foundation upon which the distribution business has been built, says Attwood. Paranormal titles in particular have sold well for the company over the past four years, with series such as Paranormal Survivor (Our House Media) and Evil Encounters (Cream Productions) being consistent sellers for the company. Recent international deals for Paranormal Survivor include a pickup by Discovery Communications in Germany.
Meanwhile, on its nature and wildlife slate, Blue Ant is bringing six projects produced by London, U.K.-based prodco Blink Films, including Surviving the Amazon and Colombia's Wild Coast, and a pair of projects from Amsterdam-based prodco Off the Fence Productions. One of the characteristics of this year's MIPCOM slate, said Attwood, is a large number of third-party acquisitions from U.K.-based production companies. Blue Ant has expanded its operations in the U.K. in recent years, as it looks to develop and produce more content for the European market.  In October 2016 it established its production studio Antenna Pictures, and has since worked more closely with U.K. companies.
For its doc slate, Attwood said the company is focusing on higher-budget doc projects, given the demand for this type of content in the international marketplace. Among the buzziest of those is three-part docuseries Prison (produced by U.K. prodco Spring Films for Channel 4), which gives viewers a rare glimpse into English prisons, and the 90-minute doc How to Defuse a Bomb (produced by Ireland-based Alleycats), narrated by Liam Neeson.
While factual, natural history and docs have been the distributor's bread and butter, it is now putting an equal push behind its premium scripted and kids and family content.
Blue Ant's move into kids and family content came a year ago. On the production side, it launched Toronto-based animation arm Look Mom! Productions, last October. A month prior, it began distributing third-party kids content via the distribution arm.
This year, Blue Ant will introduce four new kids and family series to buyers at the TV market: Detention Adventure (LoCo Motion Pictures, Broken Compass Films), When I Grow Up! (Riverbank Pictures), The Inspectors (Litton Entertainment) and News of the Wild (Northern Pictures Kids).
Meanwhile, Blue Ant International is building out its slate of premium scripted content with a pair of third-party acquisitions from L.A.-based Six Point Harness. The first of those, Deep Space 69 follows the adventures of Jay, a space bus driver and his first mate, a koala named Hamilton.
While the distribution business has grown significantly over the past four years, Attwood stresses that prioritizing quality over quantity – and being selective in its offerings at each market – has been a key element to the company's growth. "We're not in the business of any sort of scale,"  said Attwood. "It's so important in a world where it's becoming more challenging to be discovered that we take great pride in being very selective about the content that's part of our offering."