George Cheeks, Paul Telegdy to replace Bob Greenblatt at NBC Entertainment
Greenblatt will aid in the transition and continue to work with NBC Entertainment on its live musical specials.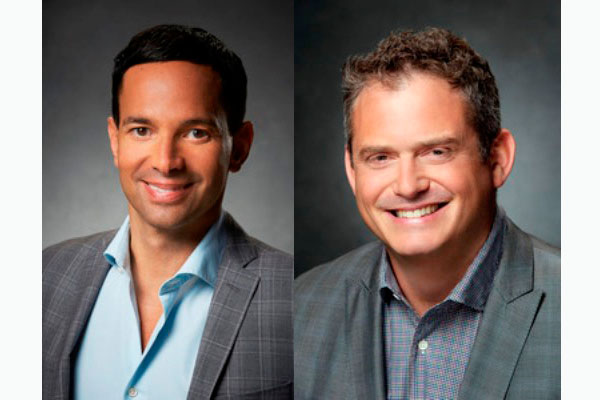 NBC Entertainment has confirmed the departure of its chairman, Robert Greenblatt, while announcing his successors.
George Cheeks, most recently co-president, Universal Cable Productions and Wilshire Studios and president, late night programming for NBC Entertainment, and Paul Telegdy, most recently president of its alternative and reality group, have been named co-chairmen, with the remit to oversee the American broadcast net and its studio divisions.
With news concerning Greenblatt's decision to leave his post circulating via various reports over the weekend, an internal memo from NBCUniversal president and CEO Steve Burke confirmed both Greenblatt's imminent departure, as well as the choices for who would fill the post.
Burke described Greenblatt, chairman at NBC Entertainment for the past eight years, as "the architect of one of the largest turnarounds in network television history." When he assumed the post, following Comcast's acquisition of the company, NBC was in last place in the ratings. For the last five seasons, the Peacock has sat at number one in the key 18-49 demo for the last five seasons. He also lauded Greenblatt for leading NBC to most-watched network status in the 2017-2018 season.
Greenblatt will continue to work with NBC Entertainment on its popular live musical specials, which he developed, and will aid in the transition.
Telegdy has helped develop some of the networks biggest unscripted hits, including The Voice, America's Got Talent and American Ninja Warrior. He also helped launch Universal Television Alternative Studio.
Cheeks, meanwhile, had oversight of business operations at NBC, while also leading Wilshire Studios and Universal Cable Productions. As president of Late Night at NBC, Burke credited Cheeks with helping to build one of the "most popular and lucrative TV lineups in the industry."
The full memo is copied below:
I am writing to let you know that that Bob Greenblatt has decided to leave his position as Chairman, NBC Entertainment. This was a difficult decision for Bob, but after a string of extremely successful years at NBC — and as much as I'd like him to stay — he is ready to embark on a new challenge.
I cannot thank Bob enough for the incredible success that NBC has achieved over the last eight years. He has been the architect of one of the largest turnarounds in network television history, leading NBC from last place when he started at NBCU right after Comcast's acquisition of the company, to number one in the demo for five seasons in a row. This year, Bob led NBC to become the most-watched network in household ratings for the first time in nearly two decades. He has also brought a winning spirit to the network and attracted the best creative talent in the business.
Under his leadership, NBC generated numerous award-winning hit shows, including "This Is Us," "The Voice," "Will & Grace," "The Good Place," "The Blacklist," and the Chicago franchise to name a few. Additionally, he helped engineer NBC's seamless transition in late-night TV, which has kept us dominant in this daypart in a very competitive landscape. He also transformed the studio side of our business, re-establishing Universal Television and setting up our new alternative studio. These studios produce many of the best shows on television for NBC as well as for other platforms, including scripted shows such as "Bates Motel," "Brooklyn Nine-Nine," "The Mindy Project," "Master of None," and "Unbreakable Kimmy Schmidt," as well as "World of Dance" and "The Wall" on the unscripted side for NBC.
One of Bob's most innovative achievements was bringing the live musical genre back to network television, creating an annual NBC tradition that has become the envy of our competitors. From the first production of "Sound of Music," which had 22 million viewers, to this year's groundbreaking and Emmy Award-winning production of "Jesus Christ Superstar Live in Concert," these musicals engage audiences in a new way and have helped to reinvent live television.
Most importantly, Bob deserves credit for cultivating the strongest management team in broadcast television, a team he would be the first to give credit to for the network's impressive performance. To that end, I am pleased to announce that George Cheeks and Paul Telegdy have been promoted to Co-Chairmen of NBC Entertainment, overseeing the network and both of its studios. We are fortunate to have two extremely talented, capable and complementary executives inside our organization who are ready to step up and help guide us into the future. Having worked closely with George and Paul for years, I'm very confident that their creative instincts, talent relationships and business skills make them the perfect partners for the job. Both executives are beloved by their teams and extremely well-respected by the entire industry.
Paul is a visionary and energetic executive who has helped develop some of the biggest hits in unscripted television today. He played a key role in NBC's revitalization by acquiring "The Voice" in 2011 and developing it into the first big hit that helped propel NBC back to number one. He also developed "American Ninja Warrior," "World of Dance," "Ellen's Game of Games," and "America's Got Talent," which just cinched the title of #1 alternative show on television. Under his leadership, Universal Television Alternative Studio was launched, which is on its way to becoming a major global player. His passion for broadcast television is evident in everything he does, including his ability to convince top talent, such as Jennifer Lopez, Amy Poehler, Dwayne Johnson, and Kelly Clarkson among others, to make NBC their home.
George is a strategist and masterful dealmaker who knows how to get things done the right way throughout NBCU. He has done an outstanding job leading business operations for NBC and as Co-President of Universal Cable Productions and Wilshire Studios. As President of Late Night at NBC, he has also been instrumental in the success of one of the most popular and lucrative TV lineups in the industry. George's ability to develop strong relationships has earned him the trust of some of our most discerning marquee talent, including Lorne Michaels, Jimmy Fallon and Seth Meyers.
To ensure a smooth transition, Bob has agreed to continue to consult with Paul and George as needed, as well as continue to work on our live musicals.
Please join me in congratulating both Paul and George on their new roles, and wishing Bob the very best in his future endeavors — which we hope will involve doing business with us whenever possible.
Here's to a successful kickoff to the new fall season!
Steve