Foroughi, Boland score Harold Greenberg funding
Closing out its fiscal year, the Fund invested $1 million across 94 features through its script development program, including Summer With Hope and We're All In This Together.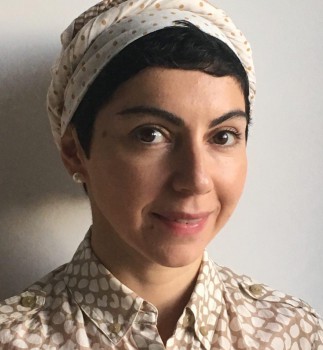 The Harold Greenberg Fund has selected the sophomore feature from writer/director Sadaf Foroughi (pictured) and a new project from writer/actress Katie Boland to receive funding through its Scripted Development Program.
HGF announced a number of new funding commitments in its 2017/18 fiscal report, across its programs.
Marking her feature directorial debut, Boland's We're All In This Together is based on Amy Jones' novel of the same name and will receive funding through the HGF's story option program. Produced by Boland's Straight Shooters Productions, the film follows a woman who goes viral when she miraculously survives a daring stunt and her family's subsequent meltdown. Boland penned the script and is set to produce We're All In This Together with Gail Harvey.
Meanwhile, Foroughi's Summer With Hope, a drama about two adolescent swimmers whose alliance provokes reactions in a small town in Iran, was selected to receive first to second draft funding. The film, which was recently selected for the Canadian Film Centre's 2018 Features program, will be produced by First Generation Films founder Christina Piovesan (Mouthpiece) and Kiarash Anvari, who worked with Foroughi on her 2017 TIFF Discovery FIPRESCI Award-winner, Ava. Foroughi's debut received eight Canadian Screen Award nominations, picking up the CSA for Best First Feature Film.
Another project receiving support through the HGF's scripted story option is director Carly Stone's second feature. Stone, who previously directed and co-wrote The New Romantic, is set to direct North of Normal. Written by Alexandra Weir and produced by Drive Films' Kyle Mann, the team recently took the project to the OMDC's annual International Financing Forum at TIFF.
Writer Adrianna DiLonardo and director Sarah Rotella's Light Years (Unsolicited Pictures), a 2017 Inside Out financing forum participant, will receive funding through the polishing and packaging program, as will Calorie (produced by Compass Productions) from Venus director Eisha Marjara.
Finally, the HGF chose Deco Dawson's first feature, Lord Only Knows I'm Gone (produced by The Film Farm), supporting the project's second to third draft through its scripted program.
These new films join 17 previously announced scripted development projects, including Phillipe Falardeau's My Salinger Year (Microscope Inc.), Clement Virgo's How Black Mothers Say I Love You (Conquering Lion Pictures), Nathan Morlando's Cam Baby (Euclid 431 Pictures) and Mary Walsh's Come Home Year (Media Connections Film).
All told, the Fund invested more than $1 million across 94 Canadian films last year through its Script Development Program.