TIFF '18: The winning formula behind Akash Sherman's Clara
The writer/director and producer Ari Lantos discuss bringing the sci-fi feature to screens, and their plans for more collaborations.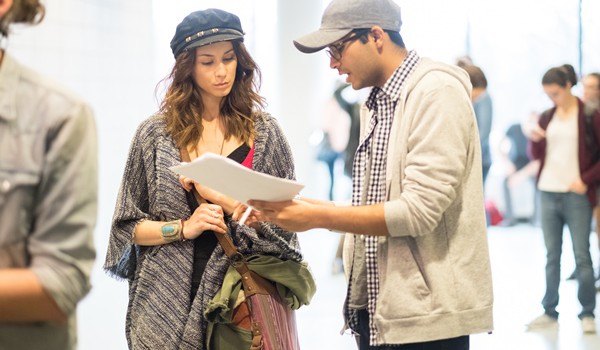 Akash Sherman's second full-length feature, Clara, is worlds apart from his first.
His debut film, The Rocket List, a film about a group of friends who document themselves fulfilling goals on their bucket list before the world ends, screened at the Toronto Independent Film Festival and EIFF in 2015. Now, he's bringing his sophomore effort to the Toronto International Film Festival, where Clara will make its world premiere in the festival's Discovery section.
"The Rocket List was made on no budget with my friends and I, on a four-day road trip with a camera," Sherman told Playback Daily with a chuckle. "Clara was a three-year project."
The sci-fi drama follows the story of an astronomer (played by Patrick J. Adams) consumed by his search for life beyond Earth. Following its TIFF premiere it will also head to VIFF and CIFF and receive the Canadian theatrical treatment via Toronto's D Films this October.
The road towards Clara started when Sherman, then 18-years-old, competed in the CineCoup Film Accelerator at the Banff World Media Festival – winning second place and nabbing the attention of producer Ari Lantos (Remember, Stage Fright). Two years later, the writer/director moved to Toronto and reconnected with the producer, "serendipitously" pitching the draft script for Clara to Toronto's Serendipity Point Films. The next day, he received an option agreement.
"I really wanted to support him and be the one to help him get his first film made," said Lantos. He was particularly impressed with Sherman's previous experience in VFX and his passion for commercial yet entertaining stories.
"At that point, it became a question of 'can I convince anybody else that [Sherman] is as special as I think he is?'"
The two were able to turn a few heads, with London, U.K. and L.A.-based Distant Horizon (a subsidiary of South African entertainment co Videovision) boarding the film. It also received funding from Telefilm Canada, Ontario Creates (formerly the OMDC), the CBC and Bell Media's The Movie Network. CBC holds the TV broadcast rights, while The Movie Network holds pay TV rights. Dates for the film's broadcast and pay TV release have yet to be announced.
Clara stars Suits principal Adams and Pretty Little Liars' Troian Bellisario as its leads – two stars with established fanbases that Lantos says will help attract audiences to the theatre. In addition to the teens and 20-something women the film is targeting, Lantos says the film is naturally aimed toward sci-fi lovers.
As for the visuals used, Sherman notes he wanted to tell Clara's story using real scientific elements. For instance, the film features research done by NASA's TESS telescope and visual effects using images of nebulas from the Hubble Space Telescope.
"That was a real goal of mine – to show what space looks like for real. They're not big CG shots, they are actually real space elements [that] I integrated into the film," said Sherman, who previously served as a VFX artist on WolfCop.
For Sherman and Lantos, Clara is hopefully a stepping stone toward producing more grounded sci-fi films together. Sherman has just completed writing one of those projects, Morbus, a sci-fi horror feature about a deadly pathogen released from a melting glacier, which he hopes to direct. "Clara is a movie about finding other worlds, this new movie I've written – it's [about] our world, planet Earth," Sherman explained.
Exec producers on Clara include Mark Musselman (Four In The Morning) and Distant Horizon head Anant Singh (Pulse). The film also stars Kristen Hager (Condor) and Ennis Esmer (Private Eyes).
Image: Actress Troian Bellisario with writer/director Akash Sherman