TIFF '18: Werner Herzog to headline Doc Conference
Tantoo Cardinal will participate in TIFF's Master Class program, while the Moguls program will see Dr. Stacy Smith present her findings on equity in film criticism.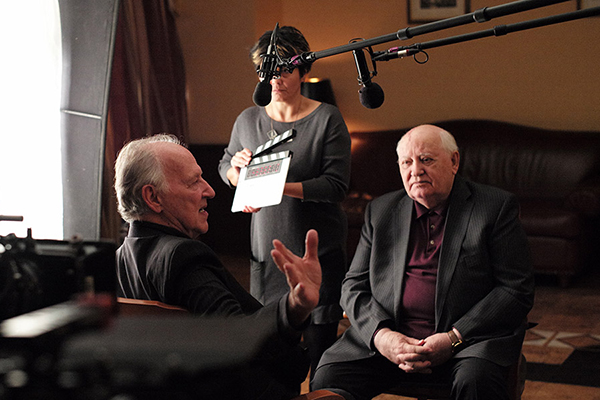 By Frederick Blichert
The Toronto International Film Festival will open its Doc Conference with a conversation with Werner Herzog about the making of his new film Meeting Gorbachev (pictured), co-directed with André Singer and playing at the 2018 festival.
Celebrating its 10th anniversary, the TIFF Doc Conference was announced Thursday (Aug. 16) as part of the six-day TIFF Industry Conference, which runs from Sept. 7 to Sept. 12 at the Glenn Gould Studio in Toronto.
Also joining the lineup are Democracy Now! producer Nermeen Shaikh, on what makes a great doc; CEO of the Festival Agency Leslie Vuchot, on self distribution and marketing; Alethea Arnaquq-Baril, whose 2016 film Angry Inuk won the Audience Award at Hot Docs and Social Justice Award at the Santa Barbara International Film Festival, on the future of Indigenous storytelling and how to tell stories with humility; and a round table on actions to free imprisoned Ukrainian filmmaker Oleg Sentsov, with filmmaker Sergei Loznitsa, Tanya Cooper from Human Rights Watch and Polina Kovaleva from PEN America.
Three additional panels have also been added to the conference lineup, according to Playback sister publication realscreen. 
Non-fiction sales agents including CAA's Amanda Lebow, ICM's Jessica Lacy, Endeavor Content's Kevin Iwashina and UTA's Rena Ronson will cover trends, opportunities and cautions in the documentary marketplace in the face of new buyers and more complex deals.
Director Maxim Pozdorovkin and cinematographer Joe Bender, who most recently collaborated on Asimov's Law, produced by Third Party Films and coming soon to HBO, discuss the role of robotic technology on the creative arts.
And finally, The Elephant Queen director Victoria Stone and co-director/cinematographer Mark Deeble offer a glimpse into the production of their ambitious nature doc. The two spent four years in Kenya following an Elephant herd led by mother Athena on the hunt for water.
Other TIFF Industry Conference events include a conversation between Canadian screen legend Tantoo Cardinal and programmer Danis Goulet as part of TIFF"s Master Classes program. Other speakers in the program include New Zealand filmmaker Taika Waititi (Thor: Ragnarok), who will discuss his career with Cameron Bailey, as well as actor/director Jiang Wen, whose latest, Hidden Man, will screen at the fest.
TIFF's Moguls programming will include a keynote on inclusion and diversity from USC Annenberg Inclusion Initiative director Dr. Stacy L. Smith. Dr. Smith will reveal the second phase of her research on equity in film criticism, after which she'll be joined by Rotten Tomatoes editor Jacqueline Coley, freelance writer Valerie Complex, and Gil Robertson of the AAFCA. The panel will be moderated by Franklin Leonard, founder and CEO of The Black List.
The Moguls program will also feature a discussion with award-winning producer Nina Yang Bongiovi (Sorry to Bother You) on what she looks for when scouting talent and her ambitions for a more globally inclusive film industry.
TIFF's Dialogues programme, supported by the OMDC, will see John Fithian, president and CEO of the National Association of Theatre Owners moderate a discussion on the impact of theatrical exhibition on today's culture; the Foundations program will feature panels on design, VFX and post-production, while TIFF Tech will present innovations in computer tech.
The full conference lineup can be found here.
From Realscreen, with files from Regan Reid