Cameras roll on CBC comedy Cavendish
The Temple Street-produced series hails from comedians Andrew Bush and Mark Little.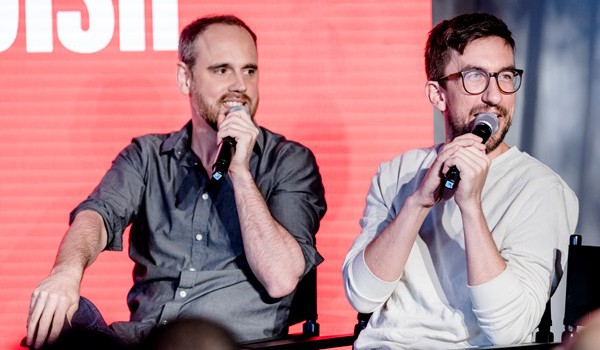 Boat Rocker Studios' Temple Street has started production on original comedy Cavendish for CBC. 

Created by by comedians Andrew Bush and Mark Little, two of the talents behind cult sketch comedy show Picnicface, along with Garry Campbell (Carter, Less Than Kind), the eight-episode half-hour series is shooting in Nova Scotia and Cavendish, P.E.I. until the end of September.
Cavendish stars Bush and Little as two brothers who return home to take care of their ailing father but, as they become embroiled in one misadventure after another, they realize there's something spooky and supernatural about their hometown. The series also stars Kevin Eldon (Hot Fuzz), Kathryn Greenwood (Whose Line is it Anyway), Kelli Ogmundson (Supernatural) and Zoe Doyle (Workin' Moms).
At CBC's season preview in May, Bush and Little described the series as "Abbott and Costello meets The Mummy," and joked about it being nothing like CBC's other P.E.I.-set show.
"Most of the time whenever you think P.E.I. you think Anne of Green Gables, which is fantastic, and very serious and beautiful vistas and we're doing a real mad-cap comedy," Bush told Playback Daily. 
Jeremy LaLonde (How to Plan an Orgy in a Small Town), Aleysa Young (Workin' Moms), Mars Horodyski (This Hour Has 22 Minutes) and Andrew Bush will each direct two episodes.
Executive producers on the series are Temple Street's David Fortier and Ivan Schneeberg (Orphan Black), Kerry Appleyard (Orphan Black), and Bush and Little. Kurt Smeaton (Kim's Convenience) is co-exec producer, while Scott Montgomery (The Beaverton) serves as co-producer. Halifax-based Marc Almon (Weirdos) is producer, and the series is produced by Ginny Jones-Duzak (Pure).
Image: Cavendish, P.E.I, via Flickr Creative Commons