Patrick O'Sullivan takes the plunge with High Dive Media
Playback caught up with the Toronto-based producer as he takes the "exhilarating and scary" step of launching a new business.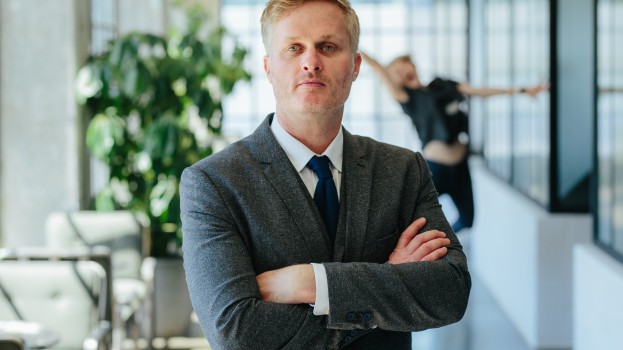 Is it a great time to be launching a new Canadian indie prodco? The worst time? Does it matter?
As Dickens might say, it's always been the best of times, and the worst of times, so for Toronto-based producer Patrick O'Sullivan, the timing of launching his new prodco High Dive Media is irrelevant. As he explains here, the focus will be – as it always has – on great ideas. Playback catches up with the former CBC exec and New Metric Media co-founder as he debuts his new business.
Playback: Tell us about High Dive Media: what's the focus? 
Patrick O'Sullivan: Exclusively on live-action TV comedy and drama, though with "TV" of course being that broad umbrella term to include broadcasters, OTTs, online platforms, etcetera. Occasionally I'll see a pitch or property that will fall outside that – a book that'd make a great film, or a kids' show that seems amazing – but it's a small company so in order to do things properly, I have to be pretty narrow in my scope.
PB: As announced ahead of the 2018 Toronto Screenwriting Conference last month, you are currently in development with Hannah Cheesman's The Long Reach Company on the 30-minute dark comedy called Badger. Can you tell me about any other projects you have in development?

PO: What I can tell you is that I had planned to have eight to 10 projects in development this year, am currently at seven contracted and am in deep on a few more. So I think I'll get to at least 10 this year. Right now the slate is a good mix of comedy and drama, conventional and cable, and at different stages of development. And I'm really excited about the IP I'm working on with other companies: the TV adaptation of Erin Carter and Justine Stevens' web series Made with Love, which is with First Love Films, and the books Crime Seen, by Kate Lines, and The Danny Cleary Trilogy, by Barbra Leslie, both of which are with Lark Productions.
PB: You were a production exec at CBC for almost four years, and then went on to co-found New Metric Media with Mark Montefiore in 2013. Why did you choose to strike out on your own in 2017?
PO: I have a lot of respect for the people at New Metric and the work that they do. Mark (Montefiore) in particular is one of the hardest working and most ambitious people I've ever met, and I have no doubt that he'll build New Metric into a media powerhouse. But last year when he and I were reviewing New Metric going forward, we simply weren't on the same page on direction, and luckily for both of us we were able to amicably separate, which I think has worked out well for everyone. Timing wise it's not great because I'm a Leafs fan he's a Habs fan. But I'll make sure he gets a copy of the parade route.
PB: Five years out from co-founding your last prodco, how do you assess the opportunities for Canadian producers in 2018?
PO: Ever since I was in school I've consistently heard that it's a terrible time to be in Canadian TV, but I've always thought that the best content would break through whatever challenges existed. Obviously you have to know what's going on, but chasing trends or the opportunity of the moment never makes for the best shows – and I've tried! Having said that, it does feel like a particularly good time to be in media in Canada – it feels like broadcasters are more invested than ever in making and supporting great homegrown shows, we have more buyers from more places turning to Canada for excellent programming, and writers and key creative are coming back home, or choosing to not leave in the first place. Of course, there are challenges as well, and challenges that are particular to some of the opportunities, but overall it's a very exciting time, and we definitely have all the ingredients necessary to make great shows that can compete with anything made anywhere.
PB: How exciting is it to once again be in startup mode?
PO: I love it – everything from the exciting stuff like finding a name and acquiring projects, to the mundane like getting stationery and incorporating… it's all fun and exciting because it's new and full of possibility. Speaking of which, if we exchange cards, please note the raised font! The cards were… stupidly expensive.
PB: When thinking about setting up a prodco for success in 2018, what are some of the key business considerations and how have those played a factor in how you're positioning the company?
PO: To be 100% honest, and I'm likely saying something that isn't personally super beneficial, I'm not reinventing the wheel here. I'm a small production company trying to make amazing content. I try to find great writers with great ideas, IP to inspire shows, build relationships with broadcasters and agents, key creative, talent and partners, find the financing to make things happen, have good knowledge of the industry and trends, be fair and straightforward. One area of particular focus is process – obviously the results have to be great, but the process has to be as well. Too many things go nowhere to not enjoy the day to day of trying to at least get them somewhere. That means being selective on projects and people, especially seeing as I don't have a huge development capacity. And it means potentially saying no to commercially viable shows, and yes to ones that are perhaps a bit more on the fringe, but that have a good team attached. I'm sure this notion will be tested and will make for some difficult decisions either way, but so far it's working out pretty well.
PB: What's the story behind the name High Dive? 
PO: It's from when I was living out west and friends and I would go jumping in lakes – it's just about the moment where you step off a cliff or diving board or bridge, and it's exhilarating and scary, but at the same time very freeing because there's no turning back. Also, the domain was available.