Cameras roll on more Political Blind Date
The TVO original format has also been picked up by international buyers.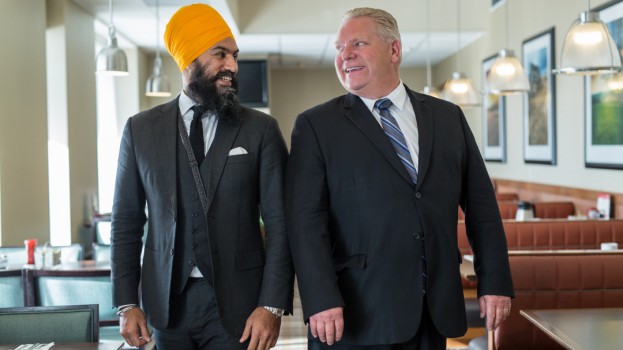 Production is underway on six new episodes of the TVO original docuseries, Political Blind Date.
Produced by Toronto prodcos Open Door and Nomad Films, the half-hour series sees two political adversaries meet face-to-face to discuss divisive issues.
The second season will feature politicians such as NDP MP Romeo Saganash, Liberal MP Wayne Easter, Conservative MP Larry Miller, Liberal MP Marco Mendicino and Deputy Leader of the Conservative Party of Canada, Lisa Raitt. New episodes are scheduled to premiere on TVO in February 2019.
The TVO original format has caught the eye of buyers overseas since its premiere in November. In March, U.K.-based distribution and rights-management company Magnify Media acquired the format rights (excluding North America). The format has also already been optioned in Israel by Zygote Films.
Politicians featured in season one of the series included NDP leader Jagmeet Singh and Ontario Premier Doug Ford (pictured), as well as Liberal MP Adam Vaughan and Toronto city councilor Giorgio Mammoliti.
The Toronto Star has once again signed on as a media partner for the second season. In season one, the Star published standalone digital videos exploring the themes of each episode, as well as Q&As with the participants after each broadcast.
Political Blind Date is created by Open Door founder and executive producer Tom Powers. The series was developed by producer Amanda Handy, series director and writer Mark Johnston, Powers and TVO.