Hot Sheet: Top 30 TV programs, June 18 to 24, 2018
MasterChef Canada breaks the top three, followed by Private Eyes at #5 and Ransom at #23.
It was a good week for Canadian TV in the latest Numeris Top 30 list, covering June 18 to 24, 2018. MasterChef Canada, the Canadian format adaptation now in its fifth season on CTV, outpaced its U.S. peer, MasterChef, to hit #3 on the list for the week, with an average of 1.5 million viewers. But the continued big news in the top five is eOne's Private Eyes on Global, this week in #5 after hitting #4 the week before. (Read more about Private Eyes' season-two, part-two success here.) It earned an average of just under 1.2 million viewers and was Global's top-performing program of the week. It joins Canadian copro Ransom, another Global drama, in the Top 30, with Ransom hitting #23 and and average of 759,000 viewers. Another worthy note is season two of The Handmaid's Tale on Bravo , which landed at #25 – the Canadian-shot series (produced in Canada by Take 5 and Whizbang for MGM) earned an average of 734,000 viewers for its Sunday broadcast and was the only scripted program airing on a specialty net to land in the Top 30.
View the full PDF HERE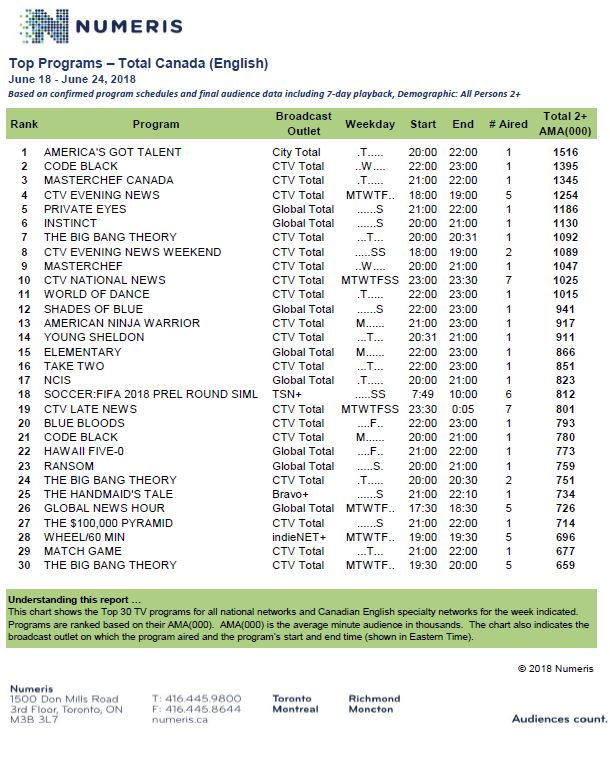 Numeris top 30 programs for the week of June 18 to 24, 2018. Numbers are represented in thousands. Click on the image below to see an enlarged version.