Bell Media takes part ownership in Just For Laughs Group
Following the announcement of its specialty rebrands, and as the media co inks its latest deal, president Randy Lennox discusses how the pieces fit together.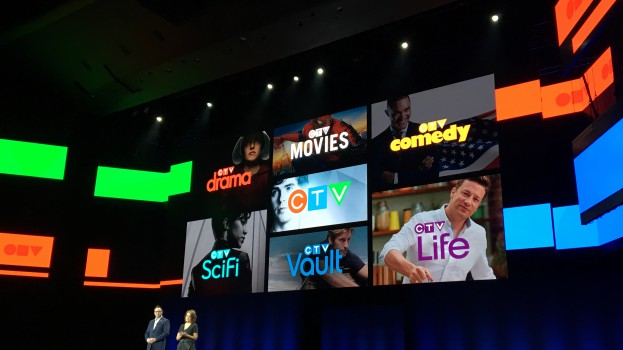 Bell Media caused a stir yesterday when it announced it would rebrand four of its specialty channels under the CTV banner. But that wasn't its only big announcement this week, with the company revealing it has become a joint owner in Just For Laughs Group.
The deal, unveiled by president Randy Lennox at the company's 2018 upfront on Thursday (June 7), will see Bell Media join talent agency ICM Partners, event promoter Groupe CH and comedian Howie Mandel in collectively owning the comedy festival. Terms of the transaction weren't disclosed.
In a release announcing the deal, Bell Media said it aims to "amplify" JFL via its broadcast and digital services.
This is the latest in a string of high-profile deals, rebrands and entries into new lines of business in 2018, starting in January with Bell Media's partnership with Lionsgate to bring Starz channel to Canada. Set to launch in early 2019, the pact will see pay-TV channel The Movie Network (TMN) Encore be rebranded to Starz.
When discussing the forthcoming rebrands of Space, Gusto, The Comedy Network and Bravo, Lennox told Playback Daily the underlying strategy was to give CTV added scale in a global market that is becoming more competitive with each passing day.
"When we look out at the landscape in 2020, you'll see 25 to 28 worldwide, ubiquitous brands trading in entertainment. At Bell Media we have dozens and dozens of brands, so we're a mile wide and an inch deep. So we need to laser focus on the same brand ubiquity that these other worldwide brands have been doing," he said.
While Lennox acknowledged that each of the four specialty channels have been successful brands for the company, it is becoming tougher to translate that domestic scale into international brand recognition. "To scale those in an Amazon world is challenging, so we went to a one-door approach" he said.
That single-destination approach will see CTV being presented as a digital hub composed of the existing CTV channels as well as the repositioned specialties: CTV Sci-Fi, CTV Drama, CTV Comedy, and CTV Life.
In addition, Bell Media yesterday revealed a newly inked output deal with Sony Pictures Television (SPT). Content acquired through the deal (classic TV shows and recently released films) will populate two new free-to-consumer VOD channels – CTV Vault and CTV Movies.
By offering both classic TV series and a robust catalogue of recently released films, Lennox said Bell Media has identified gaps in the market that are not being fully exploited. "Episodic TV content that's over 'x' years old – there's really not a place to get that. And there's an appetite for that in that the television audience is ageing," he said.
On the film front, meanwhile, Lennox said that Netflix and Amazon's focus on bolstering their television offerings has left a gap in the market for a robust film offering. "There's a market niche there and opportunity for us," said Lennox, adding that other film libraries, outside of SPT's, will also be joining the VOD services in the future.
The SPT deal builds on a previously announced agreement in which SPT picked up the format rights to the CTV competition series The Launch. According to Lennox, SPT presented the format to 60 potential buyers in L.A. last month, though no deals have yet been announced.
When it comes to achieving brand awareness on a global level, Bell Media's March majority acquisition of Pinewood Studios Toronto may prove to be its most significant. Lennox said in the 10 weeks since the deal was first announced, interest has been significant. "I've had calls from every CEO in every studio in L.A. saying 'Hey, I'm shooting a show that happens to be on Bravo or happens to be on CTV. How do we get it to Pinewood?'" he said.
And in discussions around coproduction or IP ownership, this gives the Bell Media Studios brand significant leverage at early stages of negotiations with U.S. players, he said. "It absolutely puts us in the conversation, a year before [a project] actually starts being shot."