John Tory unveils xoTO Schools initiative
The partnership between the City and the Toronto District School Board (TDSB) gives access to 11 filming locations across the city.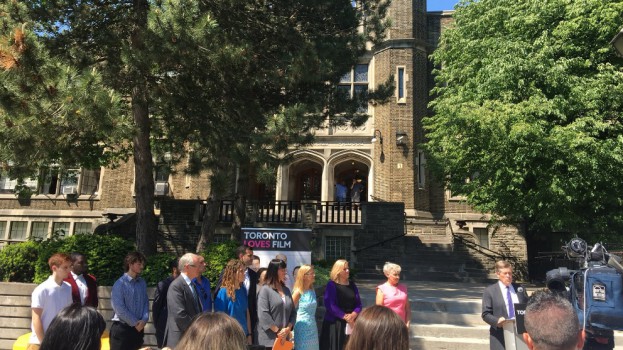 The City of Toronto and the Toronto District School Board (TDSB) have partnered on a pilot initiative, xoTO Schools, that will give enhanced access to 11 filming locations across the city.
The announcement was made on Tuesday (May 29) by Toronto Mayor John Tory, Councillor Paula Fletcher, TDSB director of education John Malloy, TDSB chair of the board Robin Pilkey, TDSB trustee Jennifer Story and Victoria Harding, associate executive director of the Directors Guild of Canada – Ontario.
The program will see domestic and international projects gain access to pre-approved TDSB locations including Central Toronto Academy, Humberside Collegiate Institute, Civic Centre and Danforth Collegiate and Technical Institute, with filming at the various locations taking place during the summer, as well as on weekends and evenings during the school year.
"This new program opens up access to locations that are very desirable to productions filming in the city," said Tory. xoTO, which is supported by the OMDC, will have designated permit personnel servicing the applications and will also offer a special daily rate card and a 72-hour permit turnaround timeline. The pilot program will run until June 2019.
As well as opening up additional filming locations, xoTO will also create co-op placements for students, who will get the chance to work with industry professionals and receive on-the-job training across a variety of disciplines, including lighting, grip, construction, makeup, hair, sound, special effects, props, set decoration, costume design and transportation.
Local unions and guilds will also work to support existing TDSB film arts curriculum with industry workshops, seminars, events and guest speakers.