eOne posts strong growth in TV, family as film revenues slide
The company posted overall year-end revenues of $1.77 billion, with its TV and family segments growing by 19% and 56%, respectively.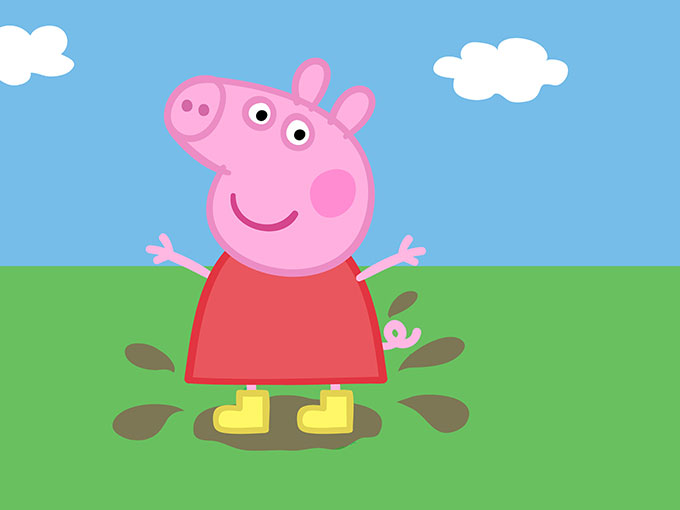 Strong growth in eOne's family and TV businesses were offset by declines on the film side, with the global studio reporting overall revenues of CAD$1.77 billion in its year-end results.
The company's overall year-end revenues were down 4% from $1.9 billion a year ago, while underlying EBITDA was up 11% to $302 million  and before-tax profits climbed 116% to $132 million.
In all, the company's family and brands business posted revenues of $235.7 million, up 56% from a year ago. That was spurred by continued growth in Peppa Pig (pictured) and its various lines of business (including revenues of $144.1 million, up from $119.1 million last year, and $3.06 billion in retail sales, compared with $1.92 billion a year ago). The family division also saw significant growth in PJ Masks, which saw its revenues increase by 261% to $83.0 million, from $23.0 million last year.
eOne noted in the report that more than 40 million Peppa Pig books have been sold in China since it launched there in April 2016. The property's performance has been helped by significant exposure on national broadcaster CCTV and other VOD platforms in the region (including Tencent, iQIYI and Youku). Across all VOD platforms, the show has now garnered more than 60 billion VOD views since it launched in October 2015, according to eOne.
On the television side, revenues across the whole TV group (which includes eOne TV, The Mark Gordon Company, eOne's music business and Secret Location) grew by 19% to $916.9 million, compared to $770.1 million. The growth was driven by larger productions and higher international distribution sales across some of its key titles, including Cardinal, Private Eyes, You Me Her and The Detail. Underlying EBITDA for the TV group increased by 15% to $122.5 million, up from $106.8 million in 2017.
Within the TV group, overall revenues for The Mark Gordon Company (MGC) climbed by 45% to $296.3 million, from $203.9 million a year ago. eOne said the increases were driven by the delivery of MGC's first feature film Molly's Game, a new series for YouTube Red, Youth & Consequences, as well as an increase in the number of Designated Survivor episodes delivered. Earlier this month it was announced that Toronto-shot Designated Survivor had been cancelled by ABC after two seasons. Since news of the cancellation broke, various U.S. trades have reported that Netflix is in talks with eOne to potentially pick up the series going forward.
eOne also noted that the previously announced integration of MGC, as well as the creation of a combined film, television and digital division, are estimated to create annual savings of between $22 million and $26 million by fiscal 2020.
Meanwhile, overall film revenues fell by 32% to $684.22 million, from $1.01 billion a year ago. The declines were attributed to fewer theatrical releases (144 in 2018 compared with 172 a year ago) and fewer home-entertainment releases (the company released 255 titles on DVD and Blu-ray in 2018, compared with 366 a year ago).
In its guidance for fiscal 2019, eOne said it expects to release around 140 films, of which around 80 will be its own titles. The company added that its investment in film production will be higher than the current year at around approximately $119 million, "reflecting the strategic shift towards content production."
Meanwhile, its investment in acquired content is expected to drop to around $170 million. "The reshaping of the film businesses is progressing well as we focus increasingly on our production activities with important partners such as Steven Spielberg and Brad Weston. This transition will enable us to improve the return on investment in film content and at the same time reduce risks across the business," said CEO Darren Throop in a statement.
Currency conversions are based on eOne's Canadian dollar-British pound conversion rate of 1.7012. All dollar amounts listed in this story are in Canadian dollars.