In brief: Hawkeye Pictures options The Honey Farm
Plus: WIFT-T announces its William F. White Production Manager Mentorship recipient, Chloe Grysole returns to Framestone and more.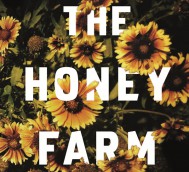 Hawkeye Pictures picks up the rights to The Honey Farm
Toronto's Hawkeye Pictures has optioned the film and TV rights to the novel The Honey Farm. The debut novel from author Harriet Alida Lye follows two artists who move to a remote farm and encounter inexplicable events unfolding around them. Hawkeye is adapting the project as a feature film. The novel is set to be released in Canada on April 15 and on May 29 in the U.S. The rights were sold by Paradigm's Kim Yau on behalf of Stephanie Sinclair at the Transatlantic Agency. Aeschylus Poulos and Sonya Di Rienzo negotiated the deal on behalf of Hawkeye Pictures.
WIFT-T names 2018 William F. White Production Manager Mentorship recipient
Women in Film and Television – Toronto (WIFT-T) has picked Cherrydale Productions producer Lauren Evans as its recipient of the 2018 William F. White Production Manager Mentorship. The five-day mentorship helps participants develop resource management, television and film equipment planning and budgeting skills. During the course, Evans will receive one-on-one networking opportunities with a female production manager and other professionals, as well as a programming pass. Evans' credits include web series The March Family Letters and All for One. She is also a VP for the volunteer-run non profit Independent Web Creators of Canada organization, which hosts the annual T.O. Webfest. The mentorship takes place from May 7 to 11, 2018.
Chloë Grysole rejoins Framestone as exec director 
Chloë Grysole has been named Framestone's new exec director. Following a three-year stint as General Manager of Cinesite Montreal, where she oversaw production on Amazon's American Gods and The Revenant, she is returning to Framestone. Grysole previously served as a senior visual effects producer for the organization in 2013. She joins the company as it expands its Mile End location. In addition, Framestone's managing director, Lucy Killick, will be heading up the company's London office in her new role as managing director, London, film. Killick will oversee the day-to-day production across film projects and key creative, technical and business needs for the division. Films currently in production with Framestone include Disney's Christopher Robin, Deadpool 2, Fantastic Beasts: The Crimes of Grindelwald, Mary Poppins Returns and Aquaman.
NSI announces CBC New Indigenous Voices recipients
The National Screen Institute (NSI) has selected nine students to take part in its CBC New Indigenous Voices training course. Students selected include Cynthia Murdock, Adeline Bird, Joe Courchene, Diandre Thomas-Hart, Damian Frazee, Daniel Bear, Shauntelle George, Rhonda Lucy and Jon Berg. The recipients will participate in workshops led by industry experts, and will also have the opportunity to intern full-time with a broadcaster or independent production company. The recipients will produce and screen three short films, with minimum wage provided throughout the 14-week course. The CBC New Indigenous Voices program is led by Ursula Lawson; NSI Indigenous programs and administrative assistant Kaya Wheeler; NSI Indigenous training programs advisor Lisa Meeches; and Elder Colin Mousseau.
Five new faces join Annex Pro's leadership team
Annex Pro has tapped five new executives to join its leadership team. Effective immediately, the new appointments include Michael Chernawsky as the company's CFO; Larry Campbell as director of corporate strategy; Alan Albert as a strategic advisor, product strategy and innovation; Darcy Reno as a cloud solutions consultant; and Jan Kindler as senior operations advisor. Headquartered in Vancouver, Annex Pro is a value-added reseller for media and entertainment content creators.