Deals: eOne, Syndicado, Pro-Fun Media GmbH
Entertainment One has licensed its new female-fronted detective series The Detail (pictured) to France Television, plus more.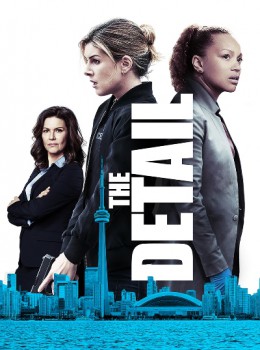 eOne
Entertainment One (eOne) has licensed its new detective series The Detail to France Television. The 10-episode drama following three female homicide investigators personal and professional lives is set to premiere on March 25 in Canada on CTV. The deal was brokered by Toby Melling, eOne's VP, sales, international distribution.
The Detail was developed by Ley Lukins, who serves as co-showrunner and exec producer with Adam Pettle. Exec producers are Ilana Frank, Jocelyn Hamilton, Linda Pope, Sally Wainwright and Nicola Shindler. Sonia Hosko and Gregory Smith are also co-exec producers on the series.
Writers on The Detail include Sandra Chwialkowska, Naledi Jackson, Joe Pernice, Sarah Goodman, Graeme Stewart and Katrina Saville. Meanwhile, directors include Gregory Smith, Jordan Canning, Kelly Makin, Sara St. Onge, Grant Harvey, John Fawcett, and James Genn. The Detail is produced by ICF Films' Ilana Frank with eOne in association with CTV, with participation of the Canada Media Fund, the Canadian Film or Video Production Tax Credit, and the Ontario Film and Television Tax Credit.
Syndicado
Toronto-based digital distribution company Syndicado has inked a U.S. digital distribution rights deal to acquire seven of Tony Palmer's documentaries. The agreement with Tony Palmer and Isolde Films includes Bird on a Wire, a doc that follows Leonard Cohen on his 1972 tour – a film that only existed as a bootleg until 2010 when it was restored from the original footage. Other notable films include The World of Peter Sellers (which was originally banned by the BBC in 1971), The World of Liberace, The World of Hugh Hefner, Hindemith, Carl Orff and The Wagner Family.
Pro-Fun Media GmbH
Germany's Pro-Fun Media GmbH has picked up Montreal-based writer/director Eisha Marjara's first fiction feature, Venus, for theatrical distribution in Germany. The comedy-drama follows a man transitioning to become a woman who discovers she's the father of a 14-year-old boy. Venus is produced by Compass Productions' founder Joe Balass (The Length of the Alphabet) and exec produced by Kevin Tierney (Bon Cop, Bad Cop). No release date has been set yet.