Brown Girl Begins builds its community
Writer/director Sharon Lewis and her producing partners discuss the film's upcoming theatrical run, Black Future Month and Black Panther.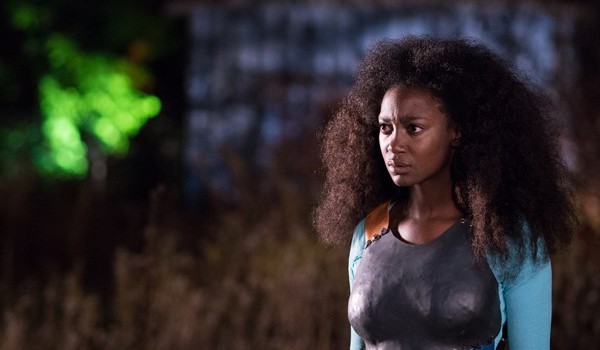 It's been a 15-year journey bringing Sharon Lewis' debut feature Brown Girl Begins to screens. But its creators believe the upcoming theatrical run couldn't have come at a better time.
Inspired by the novel Brown Girl in the Ring by Nalo Hopkinson, Lewis spent years acquiring (and re-acquiring) the rights to the novel, securing Arts Council funding, launching an Indiegogo campaign, before finally making the movie.
The film had its world premiere at the Urbanworld Film Festival in New York last September, with the producing team organizing a number of special event screenings across Canada and the U.S. throughout February. Now, the sci-fi fantasy feature is about to kick off a week-long theatrical run at Cineplex Yonge and Dundas in Toronto.
Set in a not-too-distant dystopian future, Brown Girl Begins follows a young black woman who must resurrect Caribbean spirits and survive a possession ritual, or else her people will die. It stars Mouna Traoré (Murdoch Mysteries), Emmanuel Kabongo (Quantico), jazz and blues performer Shakura S'Aida, Nigel Shawn Williams (Heroes Reborn) and Rachael Crawford (This Life).
Lewis says the production team made a conscious decision to roll the film out with special event screenings throughout Black History Month, though they're re-branding their events as part of "Black Future Month."
"We really like this idea of presenting stories that are not just stuck in the slave narrative, and although slave narratives are important, oftentimes African-Canadian and African-American stories get stuck within that genre," Lewis told Playback Daily. "We really love this idea of presenting a futuristic world that included a young black woman at the forefront of that world."
Lewis and producing partners Floyd Kane (Jean of the Joneses), Vince Buda (Big Brother Canada) and Jenn Paul (Footprints) are self-distributing the film in Canada. They've selected Canadian and U.S. cities that are home to large Caribbean populations to host special-event screenings, which have each been accompanied with a special panel discussion, Q&A or musical event. They've focused their marketing almost exclusively on social, reaching out to niche online communities (like Geeks of Color and Film Fatales) specifically to drive audiences to the events.
So far, Lewis said they've been "embraced fully" by audiences in Calgary, AB, Brooklyn, NY and Vancouver, among other stops, and that the strategy to focus on the Caribbean communities has been "extremely successful."
So successful that they're capping off their Black Future Month film tour with a sold-out double-bill at the Art Gallery of Ontario in Toronto on Feb. 24 before launching their week-long theatrical run in Toronto on March 2.
Lewis says partnering with community organizations and adding panels and special performances has been crucial to getting local communities excited for the film. As such, the producing team is partnering with Telefilm and Caribbean Tales film festival to host two moderated screenings during its theatrical run. The team will also host an International Women's Day screening on March 8.
Paul also noted that the timing for the film's roll-out could not have been better with another Afrofuturist film sparking interest in the genre.
"[Black Panther] was great timing for us because it's really the same audience that [we're targeting]," said Paul. While the film has been so dominant at the box office (already raking in more than $350 million since it hit theatres on Feb. 16), making it harder for other competing films to draw in audiences, Paul says its helped sparked conversations that could propel interest in Brown Girl Begins ahead of its theatrical launch.
"The fact that their release was happening in the same month [as ours] is absolutely fantastic timing for us because the conversation around Afrofuturism, film and the future of black people in film has been especially prominent this month," she said.
Brown Girl Begins was produced through Lewis' urbansoul Productions banner, with Kane, Buda and Paul all serving as producers. Strada Films' Sandra Cunningham and Robin Cass exec produced alongside Jennifer Ouano. The film was made with support from Toronto Arts Council, Ontario Arts Council and Canada Council for the Arts and post-production funds from Telefilm.