Barbara Willis Sweete scripts new prodco
Artemis Pictures' partners Willis Sweete, Joan Jenkinson and Susanne Ritzau will develop and produce scripted television for the international marketplace.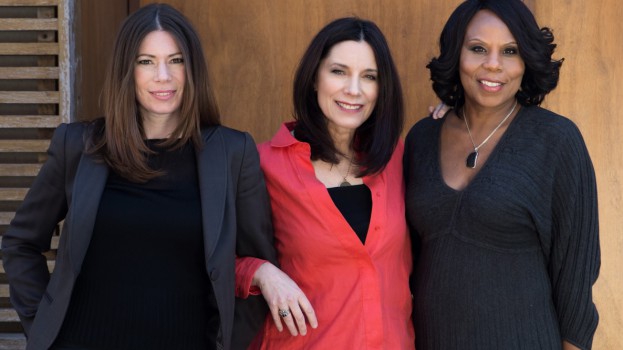 Barbara Willis Sweete is teaming with Joan Jenkinson and Susanne Ritzau to launch a new production company, Toronto-based Artemis Pictures.
The prodco will focus on creating premium scripted TV for the international marketplace, with Willis Sweete, Jenkinson and Ritzau serving as equal partners in the company. Willis Sweet is a former founding partner of Rhombus Media, while Jenkinson is the former VP of independent TV production at Zoomer Media. Business affairs specialist Ritzau will head up the prodco's project financing.
The trio told Playback Daily they have spent the past 18 months reading through hundreds of scripts and mining dozens of Canadian novels in order to build a five-project development slate that Artemis is shopping at domestic and international markets.
The first of those projects is based on Ottawa author Joanna Proulx's novel We All Love the Beautiful Girls (2017), which is a darkly comedic drama about betrayal and the unravelling of an affluent suburban community. Artemis is shopping the project as a 8 x 60-minute series. The novel was published last fall by Penguin Canada and is set for U.S. release via Grand Central Publishing later this year.
Also on the development slate is Nostalgia (8 x 60 minutes), based on the novel of the same name by Kenya-born Canadian novelist M.G. Vassanji. The adaptation is penned by R. B. Carney (Arctic Air, Murdoch Mysteries), who is attached as showrunner. Nostalgia is a psychological sci-fi thriller set in a dystopian future, where a neurophysiologist working for the government discovers her entire life is a false memory, forcing her to embark on a dangerous journey to discover who she really is.
As well, Artemis is in development on an adaptation of the Scottish play The Breathing House. The historical drama, set in Victorian-era Scotland, is described as a "wild and sensual tale of personal and political intrigue, revenge, romance and the all consuming lust for power." The prodco plans to structure the project as a U.K./Canada coproduction and is currently in discussions with a number of British producers.
Artemis is also in development on two original TV dramas: On the Rox, about a celebrated and self-destructive journalist who uses her investigative skills to take down her wealthy and corrupt peers in Fort Lauderdale, FL and the TV miniseries The White Voice, a psychological thriller set in the lavish world of 18th century opera. No broadcasters are attached to the projects currently.
While the company is currently based in Toronto, Willis Sweete said that, given the international aspirations for many of the projects, the prodco may set up offices in both London, U.K. and Los Angeles in order to have a local presence in those markets.
In October 2015, Willis Sweete announced that she was starting a new production company, Willis Sweete Productions, after departing Rhombus Media earlier that year. The prodco, which focuses primarily on arts and documentary content, consists of Willis Sweete, Ritzau and producer Trinni Franke. Willis Sweete said she will continue to produce projects under this banner, including her directing work with the Metropolitan Opera of New York and a number of multi-media projects.
Pictured L to R: Susanne Ritzau, Barbara Willis Sweete, Joan Jenkinson