Mapping out options for Toronto's studio infrastucture
A report for the City of Toronto looks at ways to replace the 213,000 square-feet of studio land that will be lost in the next two years due to the Don River flood protection works.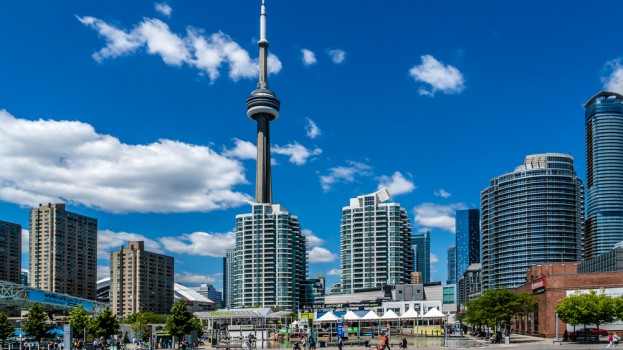 A new report gives a glimpse into the short-term future of Toronto's Port Land's film studio infrastructure, and provides an update on when the currently unused Showline Studio lot could become operational again.
The study, titled "Options for Film Studio Infrastructure," was presented by N. Barry Lyon Consultants (NBLC) to the City of Toronto. It focuses solely on studio capacity that will be displaced by the Don River flood protection project, the City of Toronto's $1.25-billion plan to protect the Port Lands from flooding and open up approximately 240 hectares of land for redevelopment.
The report, which was presented to the City on Feb. 5, suggests potential short- and long-term solutions for replacing that lost capacity.
It notes that 213,000 square feet of studio space (across four separate sites) will be lost by December 2019 due to the tenant's leases expiring and the incoming Don River Flood protection works. Those affected sites are 75 Commissioners Street and 95 Commissioners Street (the combined 118,756 square-feet of studio space will be lost by March 2019), as well as Pinewood's Studio 54 and PS Productions (which will be offline by December 2019 and make up a combined total of 94,091 square feet).

To replace the lost capacity in the short-term, the report suggests that temporary studio space be built on the land formerly owned by Showline Studios (915 Lakeshore Boulevard East). In December, Toronto's City Council approved a plan to purchase Showline Studios from Canada Post to ensure the facilities are maintained as studio space.
The 8.5-acre lot could house an additional 130,000 square feet of studio space, said the report, which suggested the new studio space could be built and operational by March 2019 (though it did note that this timeline would be tight).
To meet that timeline, the City would have to expedite the process by financing and building the temporary studio space itself, after which it could request bids from privately owned studios to operate on the space, according to the report. This, of course, would require significant investment (the report said the estimated cost for a 40,000-square-foot build is $4.8 million) and a potential source for that capital was not identified.
The report also highlighted a number of other locations that are currently available and could replace lost studio capacity. These include a temporary site at 29 and 41 Basin Street, which the report said could be ready within 16 months and total 157,000 square feet.
For a longer-term solution, the report said a 229,000 square-foot parcel of land at Villiers and Commissioners Streets could act as both a temporary and permanent studio space.
All of these proposals would be subject first to the City's approval and then sourcing the required financing to build the structures.
In summary, the report said the City needs to take the lead in the design, building and financing of temporary structures, and that its support in building approvals and financing may trigger private sector investment moving forward.
While space like Pinewood's Studio 54 will go offline in the coming years due to the flood protection works, Pinewood is already constructing a new 27,500-square-foot facility on its existing Port Lands footprint (set to open in May), as well as moving forward with plans to add a further 66,000 square feet of sound stages by 2019. Other studios are also adding more infrastructure, with Cinespace expanding its Kipling Avenue campus and TriBro also set to expand.
In December, Toronto City Council adopted the Port Lands Planning Framework, which unlocks a portion of the neighbourhood's 800 acres for the expansion of the film sector, though no further plans or timelines have yet been outlined by the city. The Port Lands area is favoured by producers, who are pushing to redevelop the area as a film and TV studio core.