Pinewood ramps up expansion plans in Toronto's Port Lands
As well as unveiling a 27,500-square-foot, $6-million facility, the studio intends to add a further 66,000 square feet of sound stages in 2019.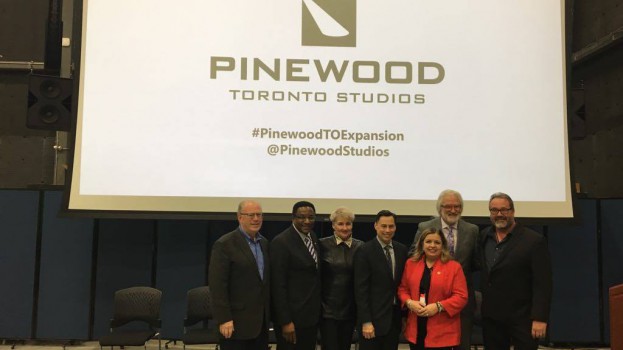 Pinewood Toronto Studios is moving forward with the next phase of its expansion plan at Toronto's Port Lands with the construction of a new 27,500-square-foot facility.
Set to be operational by May 2018, the new space consists of an 11,000-square-foot sound stage, 7,000-square-foot production office and a 9,000-square-foot workshop area for services such as costume design and set construction. The $6 million investment in the new facility will increase Pinewood's Toronto capacity by around 10%.
The announcement comes almost two years after Pinewood revealed it had leased an additional 1.75 acres of land from its landlord, Toronto Port Lands Company. The expansion of its footprint in the Port Lands – it will sit at around 330,000 square foot once the new facility is complete – is another step toward Pinewood's goal of doubling in size (to around 700,000 square foot) in the coming years. Pinewood Toronto Studios currently sits on around 17.5 acres of land, with the option to expand to 33.5 acres.
The growth also puts Pinewood closer to another of its primary goals: to be able to host two tentpole projects (either film or television) concurrently. With Star Trek: Discovery currently using a number of the stages, the studio recently had to turn away a large-scale, unnamed project as it didn't have the space to accommodate it. "If we'd already had that stage in place, we would've been able to house that show," Pinewood Toronto Studios president, Blake Steels, told Playback Daily.
The $6 million construction of the new space was fully financed by the studio's earned revenues, which represents a first for Pinewood Toronto Studios, added Steels, as previous expansions have been backed by upfront capital from its investors. This won't be the model through which future expansion plans are funded though, he said, as the next phase will involve a significantly larger investment. That next phase, also unveiled at an event on Dec. 11, will see the construction of an additional 66,000 square feet of sound stages, as well as the requisite support space to accompany it. The current plan is for work on the additional space to take place in 2019. Steels added that subsequent phases of growth will require in the neighbourhood of between $32 million and $40 million.
The Pinewood expansion is one of a number of studio-related announcements over the past few months. In September, Cinespace revealed it was adding more than 50,000 square foot of additional space to its Kipling Avenue location with a pair of 20,000 square foot sound stages and around 10,000 square foot of support space. The new facilities, named Titan Studios, are set to open in August. Last week, Toronto's City Council approved a plan to purchase Showline Studios from Canada Post to ensure that the facilities are maintained as studio space in the future.
The investment in more studio space comes as Toronto continues to operate at capacity and follows a recent report from FilmOntario that said the city's studios have turned away $130 million in business over the past 12 months due to a shortage of available space. For its part, Pinewood Toronto said it had posted occupancy levels of around 95% over the past year.
"It kills us to know there are productions that could be coming here that simply can't because there isn't enough space, so this is a step forward in that regard," Brad Duguid, Minister of Economic Development and Growth, told Playback Daily at Pinewood. "I think you can rest assured that all of [the city's] governments are very keen to see that expansion continue. We want to see expansion for a number of reasons – there are 49,000 Ontarians working in this industry and it contributes $2.6 billion to our GDP – we'll continue to support our tax credits," Duguid added.