In brief: Felix & Paul Studios heads to Sundance
Plus: Robin Joseph's animated short Fox and the Whale is one of 10 projects in contention for an Oscar nom, and more.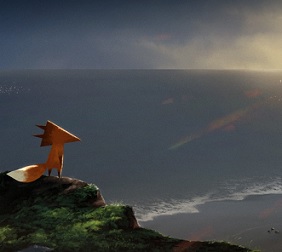 Canadian animated short makes Oscar shortlist
Toronto-based filmmaker Robin Joseph's Fox and the Whale (pictured) has been named to the 10-project shortlist of titles in contention for an Oscar nomination. Sixty-three projects were whittled down to 10 in the animated shorts category, with official nominations set to be announced on Jan. 23. Pixar's Lou (U.S.) and Magic Light Pictures' Revolting Rhymes (U.K.) also made the shortlist. Fox and the Whale tells the story of an adventurous fox who goes in search of an elusive whale.
Felix and Paul project headed to Sundance
Montreal-based Felix & Paul Studios is headed to Sundance with its VR experience Space​ ​Explorers:​ ​A​ ​New​ ​Dawn​. The project puts viewers alongside a group of NASA astronauts as they navigate the trials and sacrifices of their training and missions. Paul Raphaël and Felix Lajeunesse served as lead artists on the project, collaborating with Morgan Spurlock, Ryan Horrigan and Stéphane Rituit.
Don McCutcheon to bring Vimy to screen
Director Don McCutcheon (Murdoch Mysteries) has acquired the rights to the stage production Vimy, by Governor General Award-winning playwright Vern Thiessen. The feature remake, The Ridge, will follow a WWI nurse attempting to heal the bodies and minds of four gravely wounded Canadian soldiers following the battle of Vimy Ridge.
Just For Laughs is adding a new comedy film festival to its lineup with the addition of the Vancouver Just For Laughs Film Festival. The event, which is set to run from March 1 to 10, will feature film screenings, premieres, panels and industry speakers, with programming set to be announced in February. Filmmakers have also been invited to submit films to screen in festival, under one of the following three categories: Comedy Short Shorts, World-Wide Shorts and Feature This.
Fox brings aboard new sales VP to oversee biz in Canada, Latin America
Twentieth Century Fox has hired Joey Sabella to the role of VP of sales for Canada, the U.S. and Latin America. In the L.A.-based role, Sabella will be tasked with overseeing all TV licensing negotiations throughout Canada and Latin America. He previously served as eOne's head of sales, U.S. and Latin America, a role he began in January 2014.

OUTtv greenlights season three of Dragula
Vancouver-based LGBTQ channel OUTtv has given the season-three greenlight to competition reality show Dragula. The second season of the unscripted competition series has been picked up by SBS Viceland in Australia for a 2018 launch. The series is produced by Boulet Brothers Productions and OUTtv Network, with executive production from Brad Danks, Philip Webb, Anthony Jiwa and the Boulet Brothers. Season three will launch on OUTtv in fall 2018.