Profits climb at eOne thanks to increasing TV revenues
Revenue gains were offset by declines in the global studio's film business.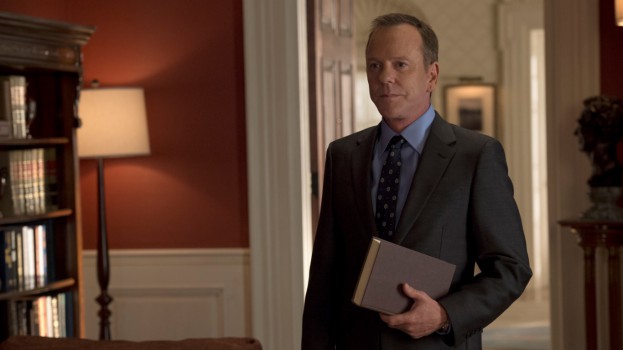 Gains in its TV business were offset by decreases on the film side as eOne reported increased profits and stable overall revenues in its half-year results, released Nov. 21.

Overall the company posted revenues of $671.9 million (£396 million), a 1% decrease from $677.3 million (£401 million) a year ago, with revenue increases for TV (up 17%) and family (up 64%) being offset by sliding revenues in film (down 29%). Overall EBITDA across the whole business was $82.6 million (£51 million), up 36% from $64.2 million (£38 million) in 2016, while before-tax profits were $60.1 million (£36 million), up 53% from $40.6 million (£24 million) last year.
According to eOne, the 17% increase in TV revenues was driven in part by new productions from eOne-owned The Mark Gordon Company (MGC), which included strong sales for MGC-produced Designated Survivor (pictured) through a worldwide streaming deal with Netflix (excluding North America). TV revenues for the six months ended Sept. 30 were $285 million (£168.5 million), up from $244.5 million (£144.5 million) a year ago. Looking ahead, eOne said the second half of eOne's fiscal year (for the six months after Sept. 30) will also see the delivery of new series The Detail (CTV), Burden of Truth (CBC) and Let's Get Physical (U.S. channel Pop), as well as sophomore seasons of Mary Kills People (Global) and Ransom (Global) and seasons two and three of Cardinal (CTV).
On the family side, steep year-over-year revenue increases were driven by children's properties Peppa Pig (up 17%) and PJ Masks (up 600%). Total family revenue for the period was $105 million (£62.1 million), up 64% from $64.1 million (£37.9 million) in 2016. The financial report noted that eOne expects its number of licensing agreements in China to increase to 60 by the end of fiscal 2018, from 20 in fiscal 2017, due to increased exposure on broadcast and on-demand platforms. In 2015, Peppa Pig launched on national broadcaster China Central Television (CCTV) and then launched on several VOD platforms last year. PJ Masks, meanwhile, will continue to roll out across Europe and Asia, with a full launch in China targeted for 2018. 

Revenues in the company's film division fell 29% to $290.6 million (£171.8 million), compared with $408.7 million (£242 million) last year, caused by lower theatrical (down 45%), home entertainment (down 39%) and broadcast and digital activity (down 28%), compared to last year. Theatrical revenues were $39.8 million (£23.5 million) for the period, down from $71.9 million (£42.5 million) a year ago, while home entertainment fell to $60.9 million (£36 million), from $99.2 million (£58.6 million) last year. Earlier this year eOne announced it was combining its global film and television sales teams in order to streamline its operations. The company noted in Tuesday's financial report that its integration of its film and TV divisions into a single studio operation is expected to generated annual savings of $13.6 million (£8 million) by 2020.