Deals: Thunderbird, Mongrel, Starfield, Super Channel
Thunderbird inks a U.S. theatrical deal with Dark Star Pictures for the Thomas Middleditch-starring comedy feature Entanglement, plus more deals.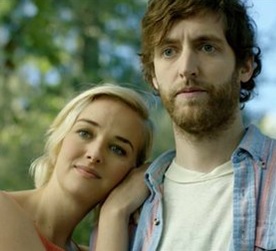 Thunderbird
Newly formed U.S. distributor Dark Star Pictures has acquired the U.S. theatrical rights to the Thomas Middleditch-starring comedy feature Entanglement (pictured). Dark Star, which was founded by Michael Repsch, an executive at U.S. distributor Breaking Glass, will release the film in theatres south of the border in 2018. The company will also handle the VOD and digital release. Dark Star negotiated the deal with Vancouver-based Thunderbird, which acquired the worldwide sales rights to the project in November 2015. Entanglement, about a man who uncovers a family secret while searching for the meaning of his existence, was filmed in Vancouver and world premiered in May at the Seattle International Film Festival. It was the first feature screenplay from Playback 5 to Watch screenwriter Jason Filiatrault.

Starfield Indie/Kew Media
Kew Media and Toronto- and London-based prodco Starfield Indie have inked a distribution deal that will see Kew handling worldwide distribution rights on a remastered version of the Canadian series Starhunter REDUX. The original version of the show ran on The Movie Network for 44 episodes between 2000 and 2004. Kew will distribute seasons one and two of the show, which will feature new effects, edits and sound available in HD. Kew Media also launched international pre-sales on a rebooted version of the property, Starhunter TRANSFORMATION, at MIPCOM. The new series will follow a group of bounty hunters who are taken into a future where many humans have been radically transformed. Production is slated to begin in 2018.
Super Channel
Super Channel has acquired the Canadian TV rights to U.K. psychological thriller Apple Tree Yard from international rights holder FremantleMedia International. Produced by London-based Kudos Film and TV for the BBC, and based on Louise Doughty's novel of the same name, the four-parter tells the story of a respected female scientist and the single impulsive act that leads her to stand trial for murder. Directed by Jessica Hobbs, the miniseries is executive produced by Manda Levin (The Tunnel, River) and written by Amanda Coe.
Mongrel Media
Mongrel Media has struck an output deal with New York-based Magnolia Pictures that will see the Toronto company distributing Magnolia's entire North American slate in Canada in 2018 and 2019. The pact includes Greg Barker's The Final Year (U.S.),  Jed Rothstein's The China Hustle (U.S.) and Hafsteinn Gunnar Sigurdsson's Under the Tree (Iceland). Previous Magnolia titles distributed by Mongrel in Canada include Raoul Peck's I Am Not Your Negro (U.S./France/Belgium/Switzerland) and Fatih Akin's In the Fade (German/France).

DHX Media
Genius Brands International has added eight animated titles from DHX Media to its Amazon Channels subscription streaming offering, Kid Genius Cartoons Plus! The series include Liberty's Kids, The Adventures of Paddington Bear, Inspector Gadget, Animal Mechanicals, The Littles, New Adventures of Madeline, Pirates: Adventures in Art and Dino Squad. The episodes will also be available to download for offline viewing on iPads, iPhones, Android devices and Fire tablets. The licensing deal comes as Genius Brands continues to build out its US$3.99/month SVOD service, which launched on Amazon's low-cost, third-party premium video service on Sept. 28. Kid Genius Cartoons Plus! gives exclusive access to full seasons of content for kids of all ages on the Amazon Video app for TVs, connected devices (including Fire TV), mobile devices and online. The channel currently has series focused on STEM skills, as well as social-emotional development and literacy.
With files from Alexandra Whyte, Kidscreen
Correction: An earlier version of this story incorrectly stated that the Mongrel output deal with Magnolia was a renewal of a previous deal. Playback regrets the error.