TVO, Toronto Star swipe right on political dating series
An innovative marketing strategy and partnership for Open Door and Nomad Films' new docuseries is "a bit of an experiment" in bringing media outlets together.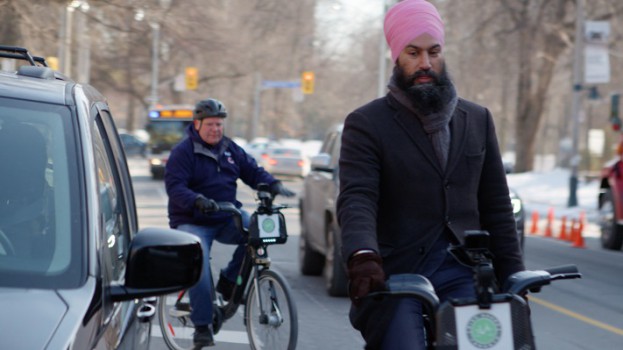 When Tom Powers read a 2015 series in the U.K.'s The Guardian that sent politicians on opposite sides of the political spectrum on a get-to-know-you date, a light went off.
The executive producer at Toronto prodco Open Door thought this was an idea he could expand upon and adapt for the Canadian market. The result is Political Blind Date, a six-part half hour documentary series for TVO produced by Open Door and Toronto's Nomad Films. The documentary is written and directed by Nomad's Mark Johnston and produced by Amanda Handy. Powers serves as series creator and exec producer.
"We were exhausted by the divisiveness and polarization of our democracy. It's getting worse by the day. So, how do we break through that?" Powers told Playback Daily. 
The series pairs rival politicians as they meet face-to-face, learn about one another and then explore a divisive topic, such as safe injection sites, marijuana legalization and climate change. The docuseries features politicians including Toronto city councilor Giorgio Mammoliti and Liberal MP Adam Vaughan, as well as NDP leader Jagmeet Singh and Toronto mayoral hopeful Doug Ford. The goal, the producers say, is to humanize the politicians – to one another, and audiences.
"We're trying to prove that civil discourse is possible in politics no matter where you are on the political spectrum," says Johnston.
In addition to the TV series, which premieres tonight at 9 p.m. on the pubcaster and will also be streamed on TVO's website, Open Door and Nomad have teamed up with the Toronto Star to expand the reach of the program even further. As the series media partner, the Star will publish exclusive standalone digital videos that explore each upcoming episode's themes, followed by Q&As with the participants after each broadcast.
Powers had long been in discussions with the Toronto Star's editor Michael Cooke to find ways to leverage the newspaper's reporting and expand into different forms of media. With the concept for Political Blind Date, they found a project that worked for both parties. With the Star on board to help promote the project, Open Door and Nomad took the idea to John Ferri, VP of current affairs and documentaries at TVO.
"It's a bit of an experiment for the Toronto Star," says Powers. "Traditional media is changing fast and, quite frankly, within the Star it's changing really fast, and they were willing to take a risk on this high concept to see what would happen."
Ahead of its premiere, TVO has greenlit an additional six-episode, half-hour second season, with the producers hoping to attract Prime Minister Trudeau and Leader of the Opposition Andrew Scheer for next season.
"The community of politicians [who took part in season one] have been very positive and they're opening a lot of doors for us and putting us in contact with [other politicians]," says Johnston.
While they'd like to expand the discourse in season two, the producers are also looking to take the format abroad.
"Quite frankly, in some ways, the Canadian production has been a development for other jurisdictions, primarily the big one to the south," says Powers, who adds that the company is in discussions to sell the format to U.S. partners.