Cineplex scores deal with NFL
The three-year agreement marks the company's latest effort to expand its customer base.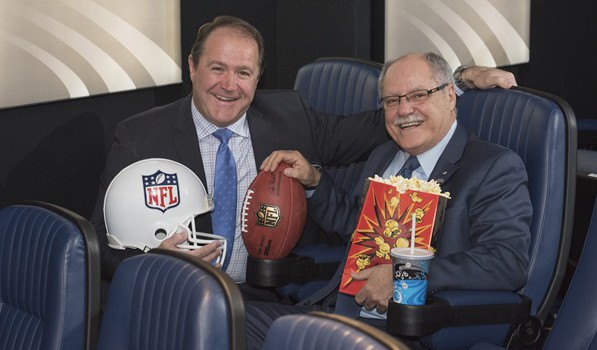 Cineplex has entered into a three-year sponsorship partnership with the National Football League that will see Sunday Night Football and the Super Bowl broadcast live in theatres across Canada.
Premiering on Nov. 12, NFL games will be broadcast live in 15 adults-only VIP theatres across the country. The event will expand to include 50 yet-to-be named Cineplex theatres, open to all ages, for Super Bowl LII on Feb. 4.
In addition to the cinema screenings, the agreement includes access to NHL brands and trademarks, and event, sponsorship and marketing opportunities. That access extends to Cineplex businesses, including WorldGaming, its online eSports platform; The Rec Room, its dining and entertainment venue business; and the Cineplex Store.
Cineplex has been looking for new ways to draw guests into its theatres with unique content, said Sarah Van Lange, Cineplex director of communications. The entertainment and media company has broadcast sporting events in the past through its alternative programming business, Cineplex Events, including Olympic Games, World Wrestling Entertainment, boxing matches and Toronto Raptors playoff games. But Van Lange said the new long-term agreement with the NFL represents a "more formal example."
By hosting the pre-Super Bowl games in VIP theatres, Van Lange said Cineplex is able to offer in-seat food and beverage service throughout the entirety of the game – unlike usual VIP movie experiences, where food and beverage service ends before the show.
As part of the partnership, WorldGaming will execute a series of online and offline Madden competitive video game tournaments. The companies launched their first official national gaming tournament, Madden NFL 18 Canadian Challenge (sponsored by Xbox), on Nov. 5 at the Rec Room's Roundhouse location in Toronto. Gamers competed for the title of national champion in the presence of New York Giants wide receiver Brandon Marshall.
Cineplex will announce the locations of its Super Bowl broadcast at a later date.
Pictured: David Thomson, managing director of NFL Canada (left) and Ellis Jacob, president and CEO of Cineplex (right).
From Media in Canada 
Correction: An earlier version of this post incorrectly stated Cineplex signed a "broadcast deal" with the NFL. The post has been corrected to state they've signed a sponsorship deal. Playback regrets the error.