On the Slate: Arcana
Pandas and aliens, ducks with super powers and Oz, oh my! How the Howard Lovecraft producer is mining new and existing IP for a half-dozen film and TV projects.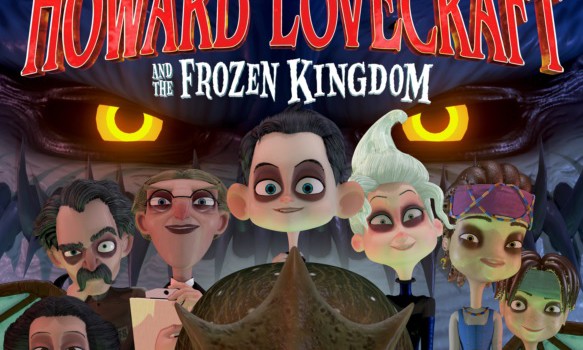 In its on-going series, Playback is catching up with Canadian prodcos to discuss what projects they're working on, their production strategies and where they see room for growth. Here, we dig into Arcana′s upcoming slate.
When it comes to development, Sean Patrick O'Reilly, CEO of Vancouver's Arcana Studio, says he likes to keep 10 spinning plates in the air, so at least "one of them has my dinner on it." That philosophy means the graphic-novel-publisher-turned-animation-house has several film and TV projects in the development pipeline for 2018.
First up, Arcana is eyeing a TV series for its popular Howard Lovecraft franchise. The Arcana-published comic book series has spawned three films, including the upcoming animated feature Howard Lovecraft and the Undersea Kingdom. It's a sequel to Howard Lovecraft and the Frozen Kingdom, released in 2016. The second film in the franchise, Undersea is set to be released in theatres by California-based Shout! Factory in December. The film, which is written, directed and produced by O'Reilly, and stars Mark Hamill, Christopher Plummer and Ron Perlman. O'Reilly recently picked up best director for Undersea at FearNYC Film Festival. 

The third film – part of a three-picture deal with Shout! Factory – is scheduled for release in December 2018.
Based on the success of both the comic books and original film, as well as fan engagement at events like San Diego Comic Con, O'Reilly believes there's demand for even more Lovecraft stories. This is where the TV series comes in. O'Reilly is currently putting together the TV Bible and penning a pilot, but has no broadcasters yet on board the project, which is in very early stages of development.
As it works on expanding the Lovecraft franchise further, Arcana is also in production on a number of other film projects, including Panda vs. Aliens, directed by O'Reilly. Coproduced with China's Yisang Media and L.A.-based Beijing Studios (LABS), the film follows a panda that must save the world from evil invaders. Executive produced by comic book guru Stan Lee and Gill Champion, the film is currently in production, with The China Film Group on board for a wide theatrical release in June 2018. Foreign sales will launch at AFM in November. The film uses Lee's alien characters from The Unknowns, a comic book series he was developing with Arcana, and Yisang's panda characters.
As Arcana owns all rights to the comics its published, O'Reilly says he's been able to "cherry-pick" top-performing IP from his library to develop for film and TV. One such upcoming project he's excited about is The Steam Engines of Oz, which just wrapped production. Using the public domain of The Wizard of Oz, the feature is set in a future when the Wizard's gifts to Dorothy's companions now feel like curses. The 3D animated feature is a Canada/Spain copro with Spain's 3 Doubles Producciones. Cinedigm Entertainment will distribute for the U.S. in March 2018, though no Canadian distributors have boarded the project as of yet.
Turning to its development slate, the company has put together a bible and pilot for the kids animated TV show Memo based on a graphic novel published by Arcana. Aimed at children two to five, the series follows Memo, a toy made of wooden blocks who engages with traditional toys from different cultures. The series would be composed of five-and-a-half-minute shorts, though no broadcasters have yet boarded the project.
O'Reilly is also in development on another comic-turned-feature. Arcana's Ultraduck has sold hundreds of thousands of digital copies, says O'Reilly, who has penned the screenplay. The film follows a duck with super powers who takes on a giant evil rooster. O'Reilly is looking for Canadian and international broadcast and distribution partners for his development slate.