Bunz branded-content original set for Halloween launch
Floating Island Entertainment and Crazy Shirt Productions took the bartering platform's core philosophy to heart in creating the web series, trading services to help cut down production costs.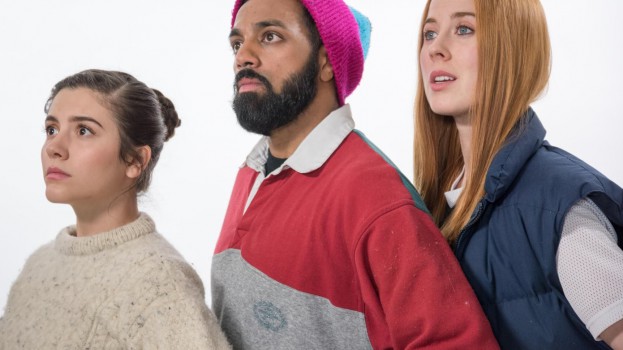 Toronto prodcos Floating Island Entertainment and Crazy Shirt Productions are partnering with online bartering platform Bunz and Bell Fibe TV to launch an original scripted series this Halloween.
The project, Fare Trade (5 x 11 minutes), is created by Floating Island president Jonathan Hirsh and written and directed by Crazy Shirt's Shawn Ahmed and Scott Leaver.
The series follows the exploits of three self-absorbed millennials who no longer believe in money and turn to bartering. However, surviving in the city with no money brings them into contact with all sorts of weird and wonderful characters as they cheat, steal and scheme their way by.
Hirsh, who cofounded Floating Island with his father and Wow! Unlimited CEO Michael Hirsh three years ago, said he felt there was space in the market for a series about bartering or trading and set about putting the script together with Ahmed and Leaver, who had a pre-existing relationship with Bell Fibe.
Feeling that the Bunz platform would be a good home for a trading-based original series, the producers pitched the idea of a branded-content series to company founder Emily Bitze and managing director Sascha Mojtahedi.
With Bunz on board, the producers next got into character themselves and traded and bartered their way through the production process. An example Hirsh gives is returning to his old school, Metropolitan Preparatory Academy, to provide lighting design services for a production of Of Mice and Men in exchange for using the school building to shoot the series. In total, Hirsh said the five episodes cost around $50,000 in cash, though he estimates the budget to have been north of $150,000 if all the exchanged services are taken into account.
Fare Trade stars Julian Richings (Orphan Black), Grace Lynn Kung (Mary Kills People) and screenwriter and video game voice actor David Hayter.
To mark the launch, Bunz is taking over Toronto's Gladstone Hotel for a Halloween event on Tuesday, where the first episode of the show will be screened for attendees.
Fare Trade is part of Bunz' evolving strategy to offer more custom content, which is crucial in driving revenue, said Eli Klein, manager of partnerships and publicity for the company. The series will live on the new BunzLife site (where the trailer can currently be viewed), which Klein said will eventually become a content hub.
Pictured left to right: Ana Golja, Darrel Faria and Erin Margurite Carter
With files from Bree Rody-Mantha