Whistler '17: Feature Project, Doc, Screenwriter Lab finalists named
The festival has also announced the Aboriginal Filmmaker Fellowship and Power Pitch participants.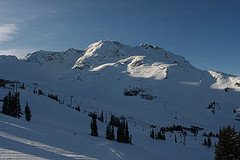 Lettie Costea and Tricia Lee are two of the Canadian indie producers advancing to the second phase of the Whistler Film Festival's Feature Project Lab.
The project development program offers four months of mentorship in Whistler, with six participants selected to move on to phase two. The second phase consists of a three-day pitch boot camp and market meetings, taking place during the film festival.
Costea will bring her feature Alone (B.C.) to the B.C.-based fest, with Lee taking Penumbra (ON). The other producers selected are Amanda Verhagen (Party Favour, B.C.), Adam Yorks (Be My Eyes, ON), Damon Lebrun (Redhead named Rasala, AB) and Carmen Forsberg (Boundary Country, B.C.). 

The festival has announced a number of other talent program finalists, including the six participants of the Doc Lab, which focuses on social-issue feature projects. Jessica Dymond (To Lethbridge with Love,  B.C.), David Strasser (Against the Grain: A Guide to Non-Conformity, B.C.), Christina Ienna (Coldwater, ON), Kathleen Jayme (Finding Big Country, B.C.), Lindsay Fitzgerald (Pursuit of Something True, ON), Devon Cooke (The Hands That Feed Us, B.C.) Ali Harris (Xwaaqw'um: A Journey, B.C.), and Jaime Leigh Gianopoulos and Claudio Cruz (We are the Bridge, B.C.).
The Praxis Sreenwriters Lab finalists moving forward to the second phase of the program are Andeep Sing (Goodnight Mr. G, B.C.), Emily Bridger (Little Orphans, NL), Simone Stock (Polaris, ON), Henry Sarwer-Foner (Shadowbox, ON), and Kate Bond (Trapline, B.C.).
The two-phased script development program provides four months of feedback and script development with advisors, with those who advance receiving a four-day follow-up and market meetings during the festival.
Wildfire, from Nova Scotia-based filmmaker Bretten Hannam, is one of five projects selected for the Aboriginal Filmmaker Fellowship, which focuses on strengthening and advancing short script projects. Other finalists are Nikita Weiss Day of B.C. with Sweetgrass Road, Madison Thomas of Manitoba with Starbound, Oliver King with Riser (MB), Ryan Wilson with Fragment (MB), and Sage Daniels with The Laugh Track (MB). 

Lastly, the festival also named the five participants selected for the three-day power pitch bootcamp, which helps producers fine-tune their feature package and pitching skills, and provides the winner with $1,000 in cash and a $10,000 post-production prize, sponsored by Encore Vancouver.
This year's participants are Nishant Joshi with Queen Tut (ON), Graem Luis with The Third Bandit (B.C.), Rebeka Herron's Saltbox (B.C.), Kent Donguine's The Offside Rule (B.C.), and Chris Scheuerman with Haven (B.C.). A wildcard producer will also be selected from the feature lab.
Whistler's talent programs have helped bring to fruition many recent Canadian films, including Kevan Funk's Hello Destroyer, which was selected for the 2013 Feature Project Lab; Mary Galloway's directorial debut Unintentional Mother (Aboriginal Filmmaker Fellowship, 2015); and the upcoming Indian Road Trip, from Allan Hopkins (Aboriginal Filmmaker Fellowship, 2015; Praxis Screenwriters Lab, 2016).