Why Michael Dowse is taking Terry and Dean to TV
The Fubar: Age of Computer director talks adapting the cult film franchise for the small screen.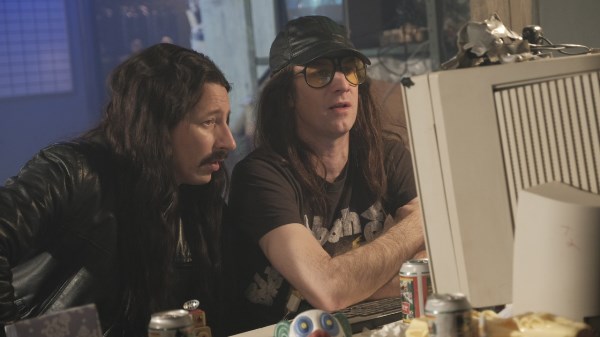 It's been 15 years since Fubar hit Canadian theatres. And while it didn't make an immediate impression at the box office (netting just over $170,000), the feature developed a cult following.
In 2010, filmmaker Michael Dowse returned with a highly rated sequel. And now Dowse and stars David Lawrence (Terry) and Paul Spence (Dean) are back with an eight-part TV series for Viceland, Fubar: Age of Computer, which debuts Nov. 3.
Dowse told Playback Daily that he didn't set out to build a franchise, but given audiences' affinity for the features, and the current market demand for television content, when Vice Studios Canada approached him for series ideas, he jumped on the opportunity to bring Terry and Dean to TV audiences.
Fubar: Age of Computer follows the pair as they flee the Fort McMurray fires and retreat to Terry's cousin's illegal basement suite in Calgary. Here, Terry discovers the wonders of the internet and Dean embarks on a journey to record a concept album.
"I don't think there's anything comparable to it on TV right now," said Dowse of the half-hour comedy, adding that telling the duo's stories in 22-minute chunks allowed for flexibility and the opportunity to build a richer storyline.
"[The TV format] definitely gives you time to bring in new characters and it's not a sprint so much narratively," he said. "It's actually probably less pressure writing [for TV because], it allows you to be even more tangential and even stranger."
He says the show will appeal to fans of the first two films, but also Viceland's core audience of 18- to 35-year-olds. 

The channel's millennial focused edgy content and the franchise's unique brand of no-holds-barred comedy made the pairing a complementary fit, Dowse said.
In an earlier interview with Playback Daily, EVP of TV and digital production, Canada Michael Kronish told Playback Daily that the channel is looking for series with unique points of view and that have that particular Vice je-ne-sais-quoi.

"What we're interested in, as a general philosophy, for Viceland are shows that would best and sometimes only live perfectly on our channel," he said.
Dowse said he's aiming for a second season of the Viceland show, but has dreams of expanding the franchise even further, adding he'd like to do an animated series following the Fubar characters.
Before debuting on TV, Vice is hosting a sneak peek of the series at The Royal Cinema in Toronto on Oct. 25, followed by a Q&A with Dowse, Lawrence and Spence.
Fubar: Age of Computer is produced by Rogers and Vice Studio Canada in association with Busted Tranny Productions and Cardinal Film.