MIPCOM: 'Time is the real luxury for creatives and producers'
As the race for brand-defining shows grows more intense, creatives and executives are facing new challenges to traditional business models.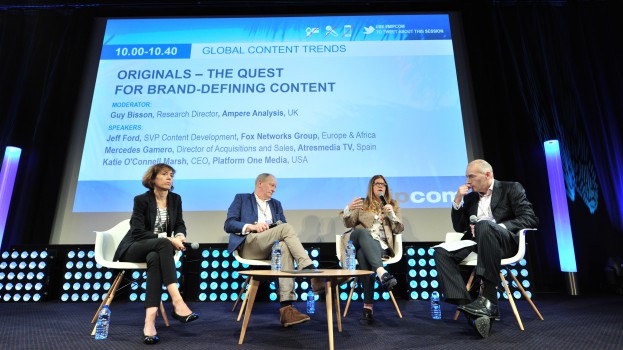 When Netflix first became a global original content force, the conversation was about its disruptive impact on traditional broadcasting, its lack of ads and the new consumer habit: binge watching.
With SVODs now globally entrenched, and Netflix chief among them, more sophisticated concerns are arising and changing once again how producers and broadcasters model their businesses.
And while territory rights and sales models are always forefront, increasingly, it's creatives at the heart of the conversation.
The global competition for talent is at an all-time high, as stakeholders mine the creative community for fresh stories with global potential. But as series orders shorten, tailored both for online consumption habits and tighter broadcaster budgets, the increased demand has not necessarily meant a windfall for creatives, as the recent battle the Writers Guild of America waged for greater pay for shorter orders illustrated.
And, former Gaumont Television and DreamWorks executive Katie O'Connell Marsh noted in a MIPCOM talk Oct. 17, the new challenge for creators is at the intersection of shorter series orders and the commitment associated with doing multiple seasons.
"Let's say it's Narcos:  you're producing 10 episodes. In the U.S., a lot of these creators are used to doing 22 episodes that took a year. [But] it takes the same amount of time to produce 10 episodes. And then, great, everyone watches it. Then if they order a second season, it takes another year. It's one of the things that is becoming a conversation for the creative talent. 'Wait, you're asking me to be off the market for 10 fees on a limited back end?' There's a bubble that's just being talked about that may start to burst because of the time it takes the creative talent off the market."
Her comment prompted her fellow panelist Mercedes Gamero to note that "time is the real luxury right now for creatives and producers."

O'Connell joined Fox International executive Jeff Ford and Gamero, of Spain's Atresmedia TV, in a panel at the international market to discuss the opportunities and challenges of creating and owning original content, a space in which broadcasters are increasingly a presence.
While a broadcaster saying they are looking for "great stories" is a time-worn tale, the frantic push to find anchor creative properties that can define a broadcast brand has created an ever-greater push to secure A-list talent both on and off camera. Alongside, everyone is searching for the kind of stories that stand out in a crowd but have global appeal at the same time. That contradiction is forcing some companies into braver spaces they might not have traditionally occupied.
Ford is at MIPCOM promoting Fox's new series Deep State, an espionage-style thriller starring Mark Strong. Set in a global landscape, the series has characters speaking in their native languages, which include Farsi, French and English, and the pilot kicks off with Farsi dialogue.
That, he noted, was a problem in some meetings he was having at the market, with an Australian broadcaster noting that it's not something that would work for its audience. But, he said, he thinks audiences are largely becoming more accepting of foreign languages in their shows and the caster is committed to having characters speak their native languages. "It's only fair to do that," he said. "You have to reflect what that drama is about."
In fact, argued O'Connell, even though the conversation in distributing a show is how well it can travel, success can often be found in keeping a story small (relatively speaking). "I think the more specificity in the script and the emotion of the story, the more opportunity for the globalness."
Platform One is a new business, launched by cable company Liberty Global earlier this year specifically to take advantage of the global opportunity in making and selling premium drama. O'Connell said they took a hard look at traditional business models in launching the company, which have moved from mostly territory-by-territory sales into the increasingly prevalent cost-plus global rights deals favoured by Netflix. And in examining what happened with Narcos, a Netflix series O'Connell launched at Gaumont, she says they found a new niche.
And it's a strategy of which creatives – and rivals – should take note.
"For us the thesis statement is about how do we not just monetize the series but the fringes around the series," she said. "When we did Narcos, it was a big global hit, we were focused on producing the show. [And then] you'd see globally, there was a bunch of documentaries that started coming out – that nothing to do with us – but that show created a conversation. I think as we enter the marketplace, we want to do a better job of owning that conversation around a series and owning that ancillary content that comes off that series."