CreamVR projects head to Hulu
Three titles, including NASCAR racing experience The Driver, are launching on the streamer's VR app.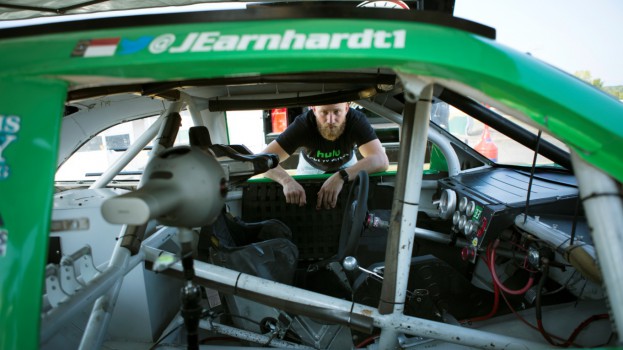 Toronto-based CreamVR has partnered with Hulu to bring a trio of new virtual reality experiences to the streamer's VR app.
Two of the projects, NASCAR racing experience The Driver (pictured) and Dominic Monaghan-hosted A Curious Mind, launch Oct. 17 on Hulu, while the short horror film Happy Campers began streaming on Oct. 13.

All three of the projects are produced exclusively for Hulu's VR app, which is available on Daydream, Playstation VR, Oculus Rift, Microsoft and Samsung Gear VR headsets. The Driver and Happy Campers are exclusive to Hulu and won't be available in Canada, while A Curious Mind will also launch on the CreamVR app.
A Curious Mind is a pop-science VR experience that explores some of the most influential moments in the natural history, while The Driver puts users in the seat of rising NASCAR star Jeffrey Earnhardt, who is sponsored by Hulu through a brand partnership. Meanwhile, the three-minute short film Happy Campers, about a group of friends who realize they are not alone in the deep wilderness, will launch on Hulu both as a 360-VR experience and a traditional 2D project. Each of the projects were developed and coproduced by CreamVR and Hulu. 
David Brady, CEO of CreamVR told Playback Daily the partnership stemmed from a meeting with Hulu's head of VR/AR Brittney Black, who took an initial interest in A Curious Mind. The two companies ended up partnering on the development of that project, before CreamVR pitched Happy Campers, which Hulu later commissioned and funded. Later on, Hulu approached CreamVR about producing The Driver, which is co-financed by Hulu and Microsoft.
When asked about the benefit of partnering with large U.S.-based digital platforms such as Hulu, Brady said: "I think it's important, because these digital players already have big [audience] footprints and they can shortcut our content to great number of headsets." Brady added that CreamVR and Hulu are having conversations about future projects.
Estbalished in 2015, CreamVR is headed up by Brady. The company has produced more than 20 VR experiences since it launched, including companion experiences for Investigation Discovery's Fear Thy Neighbour and Travel Channel and OLN's Wild Things with Dominic Monaghan.