Comic universes collide as CBC preps fall comedy lineup
Talent from Kim's Convenience, Mr. D, Rick Mercer Report and This Hour Has 22 Minutes meet on the Kim's shop floor in the new ad spot.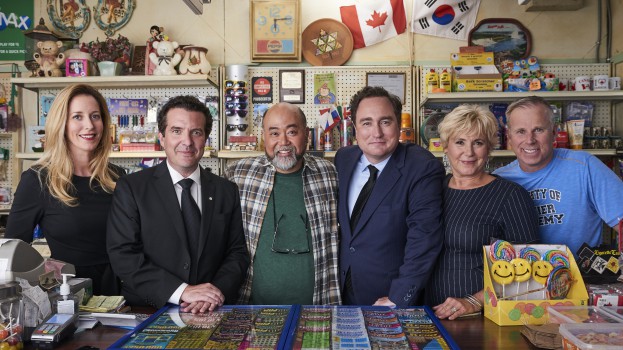 CBC is merging four of its comic worlds in order to promote its Tuesday lineup of returning comedies.
The pubcaster is running a new ad spot featuring talent from Kim's Convenience, Mr. D, Rick Mercer Report and This Hour Has 22 Minutes, in which characters interact with one another on the set of Kim's Convenience. It is the first time CBC has placed characters from different comedy shows in the same promotional spot.
The crux of the strategy is to introduce fans of one show to characters from another, Dylen Postnikoff, CBC's senior manager, marketing communications, TV, told Playback Daily. "We see great value in these cross-promotional opportunities when it comes to being able to leverage new audiences," she said of CBC's desire to promote to broad audiences on linear, online and social.
Another part of the strategy is to consolidate the buzz around breakout-success Kim's Convenience (Thunderbird), which drew an average audience of 877,000 (2+) to CBC in its first season.
The promotional spot – which sees Rick Mercer, Gerry Dee and Mark Critch, Cathy Jones and Susan Kent from This Hour buying items from Appa (Paul Sun-Hyung) in his convenience store – will run on CBC's linear channels (in a 30-second ad) and on the pubcaster's digital platforms (in an extended 60-second ad) until Sept. 26, when the returning fall lineup premieres.
The Tuesday night schedule starts at 8 p.m. with Rick Mercer Report (season 15 ), followed by This Hour Has 22 Minutes (season 25) at 8:30 p.m., Kim's Convenience (season two) at 9 p.m. and Mr. D (season seven) at 9:30 p.m.