ImagineNative reveals full lineup
Zoe Hopkins' Kayaking for Beginners will bow at the fest, alongside Jeremy Torrie's Juliana and the Medicine Fish.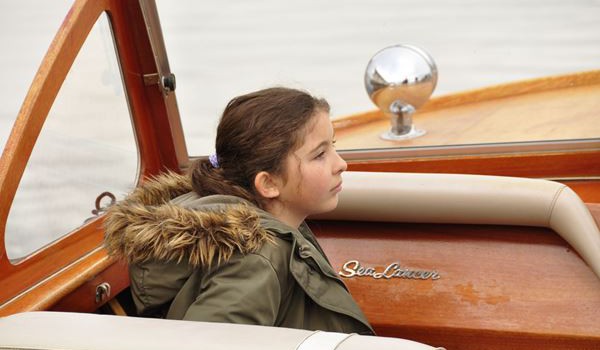 Zoe Hopkins dramatic feature Kayaking for Beginners will make its world premiere at the ImagineNative Film + Media Arts Festival, which has announced its full lineup for the 18th annual fest.
Produced by Scythia Films' Daniel Bekerman and Sheryl Kotzer, Kayaking for Beginners follows a 14-year-old girl protesting a proposed pipeline.
Also debuting at the Toronto festival is Jeremy Torrie's Juliana and the Medicine Fish (pictured), produced by Winnipeg-based High Definition Pictures. The feature follows a 12-year-old girl forced to repair an awkward relationship with her father, played by Adam Beach (Suicide Squad).
On the documentary side, Shane Belcourt and Lisa Jackson's Indictment: The Crimes of Shelly Chartier will have its world premiere at the fest. The feature doc follows the true-crime story of a woman from a small Manitoba reserve who catfished an NBA superstar. Glwa: Resurgence of the Ocean-Going Canoe, from directors Hillary Beattie and Vina Brown, which tells the story of Tribal Canoe Journey, is also premiering at the fest.
ImagineNative will include Alanis Obomsawin's 50th documentary in as many years, Our People Will Be Healed, which is produced by the NFB and debuting at TIFF. Another feature produced by the NFB, Tasha Hubbard's Birth of a Family, has also been added to the lineup.
On the TV front, Carol Kunnuk and Zacharias Kunuk's Bowhead Whale Hunt will debut at the fest, its the first episode from a seven-part, half-hour series Hunting with my Ancestors.
All told 115 film and video projects will be screened, with 101 Indigenous nations and 16 countries represented, including 67 projects from Canada. Of the films screening, almost three quarters (72%) are made by Indigenous female directors.