How Northern Banner is building buzz for Blood Honey
With a stunt featuring a face full of live bees, the distributor hopes to nab a Guinness World Record and a swarm of viewers for Jeff Kopas' latest.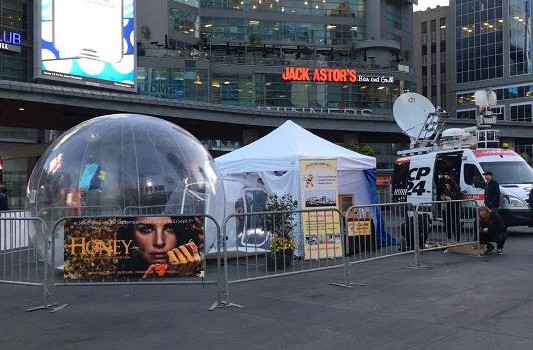 It's not easy to catch a bit of buzz for small indie flicks. But Northern Banner is hoping to drive a swarm of people to its latest, Blood Honey. Set up in Toronto's Yonge-Dundas square, one of the city's busiest, loudest and brightest intersections, with thousands of people traveling through on a daily basis, the distributor set up a Guinness World Record-worthy stunt – but will it be a keeper?  
Jeff Kopas' Blood Honey, which opens at Cineplex Yonge-Dundas on Sept. 1 for a week-long run in Toronto, follows a young woman (played by 90210's Shenae Grimes) who returns home to assist her siblings with their dying father, a bee keeper.
To help drive audiences to the film, Northern Banner is attempting to break the current world record for the longest time a person has his full head and face covered in live bees. The record currently stands at just over 53 minutes.
"The reality is that cutting through the advertising clutter nowadays is really difficult. A lot of these bigger films have such huge P&A budgets, for smaller films to really make a dent, you have to do something different," Northern Banner managing partner Andrew Hunt told Playback Daily. 
Today, Kopas and Northern Banner have set up a large tent in Yonge-Dundas square, inside which a volunteer beekeeper from Cookstown, ON-based Dickey Bee Honey will attempt to break the record. A queen bee will be placed on his head, and after some preparations, more than 100,000 bees will be released. When they have all landed on his face, the clock starts. If a bee strays, the clock has to be reset.
The record attempt, which runs from 11 a.m. to 2 p.m., will also be live streamed on the film's Facebook page. The tent will feature the title treatment for the movie and there will also be volunteers handing out film postcards that push its theatrical and VOD releases.
In addition to its Toronto screenings, special screenings of Blood Honey will take place in Ottawa on Aug. 31, in Vancouver on Sept. 8 and in Calgary on Sept. 12. The film will be released on VOD on iTunes, Google Play, Xbox and Shaw on Sept. 5. 

"This is really a title that we're expecting to find a home on VOD," said Hunt, adding the company is using today's event and the film's one-week run as a catalyst for VOD sales.
"This is the first time we're doing such a stunt event for a film, so we'll see if such an event works and if it helps to increase numbers more than a standard release," he said.
This isn't the first PR event Kopas has organized for one of his films. His debut feature, An Insignificant Harvey, followed a character who lived in an Airstream trailer. Kopas convinced Airstream to loan him a trailer for three months, which he took to screenings around the country. "I did a six-week tour in this Airstream and got so much media along the way – so much more than we should have got," he said. "Having a really good PR event is the best way to get earned media, and with our small promotional budget, you get the biggest bang for your buck."
Blood Honey is directed by Kopas, and based on a script he wrote with Doug Taylor (Splice). Kopas produced alongside Robert Budreau and Ryan Reaney. Marina Cordoni and Taylor are executive producers.
Image: Blood Honey Facebook page