CBC unveils new hosts for a refreshed version of The National
A team of four will lead the pubcaster's flagship news show as of this November.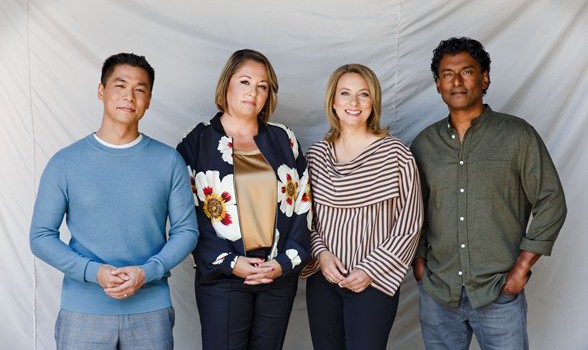 Heather Conway, the CBC's executive vice-president of English services, says she's been asked about the new host of The National every day since Peter Mansbridge announced he would be retiring last year. "Always under confidence, of course."
The pubcaster revealed the answer on Tuesday, announcing that four hosts will take the helm of the revamped show when it hits the airwaves on Nov. 6 on CBC and CBC News Network.
Taking over hosting duties are senior correspondent Adrienne Arsenault, who will be based in Toronto; CBC News Network's Power and Politics host Rosemary Barton, who will be based in Ottawa; CBC Vancouver host Andrew Chang and veteran host and reporter Ian Hanomansing, who will also be based in Toronto.
Jennifer McGuire, general manager and editor-in-chief of CBC News, said at a press conference that the revamped show will be more digitally focused and updated throughout the evening and across time zones until 2 a.m. ET. Conway added the last time that a new host was named at The National in 1988 (when Mansbridge took the seat) it was a "different time," noting that viewers now tune in when and where they want.
"When Peter took over The National [in 1988] it was an entirely different era," she told Playback sister publication, Media in Canada. "There are now more touchpoints than ever before. So we looked at what the show has to be in a continuous news environment. We came to the conclusion that it still had to be a TV show, because people like watching the show on TV, and there is trust in legacy broadcasters. So we wanted to make it a TV experience that still existed, but was different."
Largely focused on digital now for distribution on platforms like Facebook Live, the refreshed show will be more active online. While details are still being ironed out, McGuire said that will mean original digital storytelling through the day that will feed into the nightly newscast, as well as the potential of adding additional pieces like a newsfeed or podcast as part of The National brand online.
The newsroom is also being reworked to have groups that focus on depth, investigative reporting and audience experience. Formerly it was grouped into programs, news gathering and digital, she said. So when The National hits screens in its new format this November, McGuire said it will be a show that isn't a recap of the day's events, but one that explains the news and drives the stories forward.
"When people are consuming headlines on their smartphones all day, what they're looking for from a nightly newscast is what it means and why it matters," she said. "The play for the TV show isn't to touch all the stories from the day, but to put them through a lens of which ones are the ones that matter to Canadians and also what you need to know about it going forward. It's something that the news is doing now, but we are going to try and push the stories forward faster."
Ad breaks on The National are expected to remain as they as they are for now, said McGuire. That could change if the CBC/Radio-Canada's efforts to go ad-free overall succeed, but in the meantime McGuire said the show's hosts have opportunities to interact with social media viewers during commercial breaks – something Mansbridge did on occasion near the end of his tenure.
The most recent confirmed AMA for The National was 866,000 from Aug. 29, 2016 to April 9, 2017, according to Numeris numbers from the CBC. The National has seen an average of 760,000 streams a month on the CBC's digital platforms. On Facebook, The National averages 16.1 million monthly streams (of 10 seconds or longer), and has a daily reach of 314,888, according to Facebook analytics from the CBC covering March 1 to May 31, 2017.
Image (left to right): Andrew Chang, Rosemary Barton, Adrienne Arsenault and Ian Hanomansing