Blue Box takes Corus-Hot Docs Forum pitch prize
The festival also handed out more than $75,000 in prize money to the winners of the Short Film Pitch program.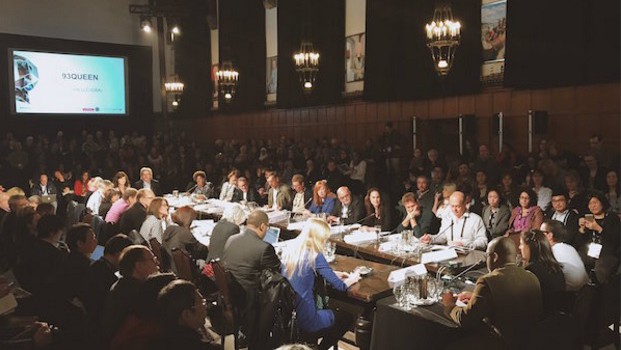 The Hot Docs Forum concluded Wednesday afternoon (May 3) with the presentation of several pitch prizes.
Twenty projects were presented at the forum over the course of the two days, half of which were directed by women.
The Corus-Hot Docs Forum Pitch Prize was given to Blue Box, pitched by Michal Weits and Assaf Amir, which tells the untold story of the massive takeover that led to the creation of Israel told through the diaries of the man who orchestrated it. The $10,000 cash prize is given to the best Canadian doc concept as selected by a committee of international buyers.
Hot Docs and BravoFACT also presented the Hot Docs Short Film Pitch, giving six Canadian filmmaking teams the opportunity to pitch their short documentary projects to a live audience and a panel of judges to win cash prizes totaling $75,000, courtesy of BravoFACT.
The first place $30,000-prize was given to Sherien Barsoum's Ride For Promise, where a young black man overcomes personal, social and familial struggles to cross Canada in a journey inspiring new narratives on race, privilege and poverty.
Stuart Coxe, Laurie Few and Colette Vosberg claimed second place ($25,000) for their project Boko Haram: Between Good and Evil, which documents the experiences of Nigerian school girls who are survivors of the Boko Haram kidnapping. 36 Hitchin Road, pitched by Nova Scotia's Lorna Kirk took third ($20,000).
The Cuban Hat Award, which is presented to the favourite pitch at the event, funded and selected by forum observers, went to 306 Hollywood, from New York-based filmmakers Elan and Jonathan Bogarína. The film follows two siblings who undertake an archaeological excavation of their late grandmother's house. This year's collection brought in $1,673.06 in Canadian and U.S. funds, which Hot Docs will match.
Hot Docs also unveiled Hot Docs First Look this week, a new program for philanthropic supporters of and investors in documentary film.
The inaugural Firstlook program's top prize of $75,000 was awarded to Paula Eiselt's 93Queen, which follows a group of Hasidic women who create the first all-female volunteer ambulance corps in NYC. The program's second prize of $25,000 went to Assia Boundaoui's The Feeling of Being Watched, in which a filmmaker investigates rumors of surveillance in her Arab-American neighborhood in Chicago.
From Realscreen