Les 3 p'tits cochons 2 wins Guichet d'Or award
The French-language film earned nearly $2.9 million at the Canadian box office in 2016.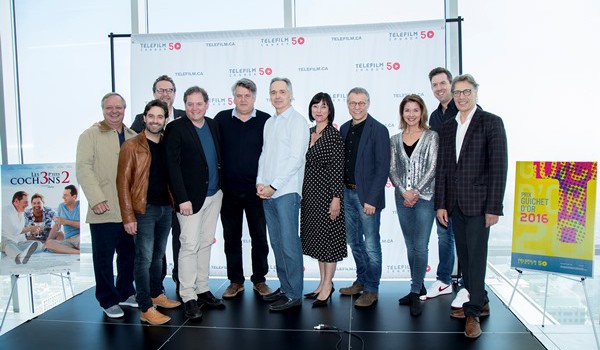 Telefilm Canada presented its annual Guichet d'Or award to Les 3 p'tits cochons 2 director Jean-Francois Pouiliot and screenwriters Pierre Lamothe and Claude Lalonde at an event in Montreal last week.
The $40,000 award honours the director and screenwriter of the French-language film that generated the highest domestic box office over the previous year. In 2016, Les 3 p'tits cochons 2 earned nearly $2.9 million at the Canadian box office. The award was presented by Telefilm's director of project financing Michel Pradier and its national feature film executive for the French market, Marie-France Godbout.
Les 3 p'tits cochons 2 was produced by Christian Larouche of Christal Films, who also distributed the film. The film, a sequel to the 2007 Guichet d'Or winner, follows three brothers who are struggling with their relationships.
The film also recently picked up the Academy of Canadian Cinema and  Television's 2016 Cineplex Golden Screen Award for Feature Film, which is awarded to the highest-grossing Canadian film at the domestic box office.
Past recipients of the Guichet d'Or award include Cruising Bar 2, De père en flic (Father and Guns), Piché: entre ciel et terre, Starbuck, Omertà, Louis Cyr: l'homme le plus fort du monde (Louis Cyr), Mommy and La Guerre des Tuques 3D (Snowtime!).
Image (L to R:) Christian Larouche, Guillaume Lemay-Thivierge, Patrick Roy, Paul Doucet, Claude Lalonde, Pierre Lamothe, Marie-France Godbout, Jean-François Pouliot, Isabel Richer, Patrice Robitaille, and Michel Pradier.