Perfume War preps theatrical release
The award-winning doc is tapping a fragrance manufacturer and a Dragon to help push social reach ahead of its premiere.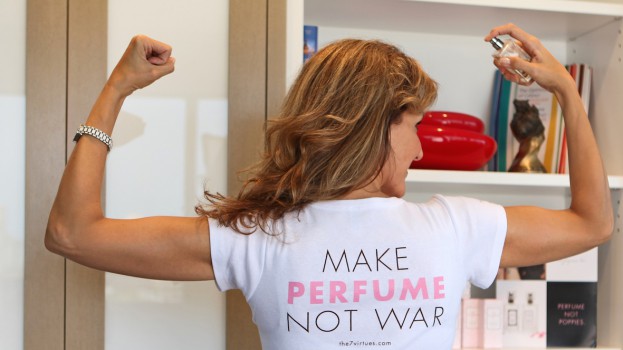 After making the rounds on the festival circuit – and racking up a number of awards – Loud Baby Productions' Perfume War is set to hit theatres.
The documentary, directed by Michael Melski, will open in Cineplex theatres in five markets across the country on April 14. Produced by Mike Velemirovich, president of Halifax-based prodco, Loud Baby, and executive produced by Brad Pelman, the documentary centres around author, social activist and businesswoman Barb Stegemann who attempts to take on the Taliban after her best friend Captain Trevor Greene is seriously wounded in Afghanistan. The film follows Stegemann as she works with Afghan farmers to grow legal flower crops rather than illegal heroin poppy – a major source of income for the Taliban – and uses the crops to produce perfume through her company, The 7 Virtues.
Perfume War picked up audience awards at the Sonoma and Victoria International Film Festivals. It also won best documentary at the Atlantic Film Festival and best humanitarian film at the Sedona International Film Festival in Arizona.
Andrew Austin, president of AJA Media Corp and a consultant on the film's release, told Playback Daily that they're hoping to capitalize on the film's festival buzz ahead of its theatrical release.
Perfume War will open in Halifax, Ottawa, Toronto, Calgary and Vancouver for a limited run at Cineplex Event theatres this weekend. Stegemann and director Michael Melski will attend the Halifax screening on April 14 and host a Q&A after the film. Stegemann will then head to Toronto for a Q&A on April 15.
A low-budget doc, the film's promotional campaign is a grassroots plan that relies on social media and publicity managed by Angie Burns (who also serves as VP, publicity and promotions at D Films in Toronto). In addition to promoting the screenings through the film's Facebook and Twitter, Stegemann is heavily promoting the film through her personal and company social channels (where she has more than 15,000 followers).
The filmmakers are also banking on a big-name ally to help with promo efforts: former Dragon's Den entrepreneur W. Brett Wilson, who invested in Stegemann's 7 Virtues fragrance company on the television competition show and is now a partner in the operation. Wilson will host his own Q&A at the Calgary screening of the film and has been promoting the film through his social channels.
The film targets women who are 25 and older with the secondary audience being all adults over the age of 25, says Austin.
He adds  following its theatrical release, the filmmakers will employ a traditional windowing strategy, with the film heading to VOD and digital platforms within 90 days.