Never Saw It Coming shooting in Sudbury
The Gail Harvey-directed indie thriller is the latest buzzy production to set up shop in the Northern Ontario city.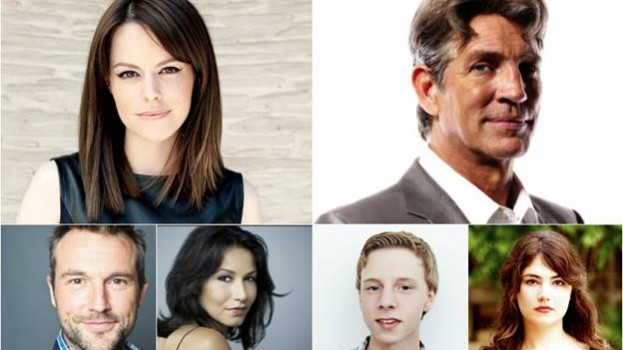 Sudbury has netted its latest high-profile Canadian production, with cameras rolling on the Gail Harvey-directed indie thriller Never Saw It Coming.
Produced by Gail Harvey and Katie Boland's Straight Shooters Productions and Marina Cordoni Entertainment (MCE), the film stars Emily Hampshire (Schitt's Creek) as a phony psychic who scams families out of their money. However, when she targets the family of a missing girl, she becomes entangled in a dark web of secrets.
Hampshire is joined on screen by Eric Roberts (The Dark Knight), Katie Boland (Reign, Born to be Blue) and Nick Serino (Sleeping Giant).
The seeds of the project were sown when, over dinner one night, Harvey asked Canadian author Linwood Barclay whether he had any books that weren't currently under option with Hollywood producers. There was one novel that remained on the market, he told her, and the pair began discussions about how they could bring his 2011 novel Never Saw It Coming to the screen. Barclay then worked closed with Harvey as he penned the screenplay.
Filming is scheduled to wrap on April 14 after which the producers hope to have the film ready to submit for festivals in the fall, including TIFF '17. No Canadian distributor has been announced yet. The film's executive producer, Toronto's Prodigy Pictures, holds the international rights to the film (outside of Canada) and is expected to launch global sales at TIFF.
Executive producers are Barclay, Prodigy Pictures' Jay Firestone and Steven Pasternak, and Rolling Pictures' Michael Forsey. Diane D'Aquila, Maria Del Mar, Jeff Clarke, Shaun Benson, Tamara Podemski and Keegan Hedley round out the cast.
The film is made with the financial participation of Telefilm, the Northern Ontario Heritage Fund, Prodigy Pictures and Rolling Pictures, as well as federal and provincial tax credits.
Never Saw It Coming is one of a growing number of productions choosing Sudbury as its shooting location. In total, Northern Ontario attracted 51 projects in 2016 and the Northern Ontario Heritage Fund also that year approved funding for 27 film projects and 10 TV projects for a total investment of more than $22 million. Among the projects expected to return to Sudbury this year is Cardinal, which is scheduled to shoot its second season this summer and its third in the fall.
Marina Cordoni, president of MCE, told Playback Daily that financial incentives were a contributing factor in the producers' decision to look beyond Toronto to Sudbury, but equally important was the high-quality crews and the atmosphere of the city, which suits the film's small-town feel.