Squeeze launches motion-capture division
The Quebec studio is looking to diversify its animated offerings with the launch of MOOV.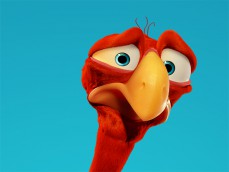 Quebec animation house Squeeze is bolstering its production capabilities with the launch of a division devoted to 3D-motion capture.
The new division, called MOOV, will be headed up by video game and film veteran Dave Massicotte, who is adding between five and 10 full-time animation artists to staff his team. The studio is based in Squeeze's Quebec studio.
Motion capture is the process of digitally recording movement, usually that of an actor, for the purpose of animating film, TV or video games. According to Squeeze, MOOV is the first motion capture studio in Quebec.
Squeeze is the company behind Cracké (52 x one-minute, pictured), which has now been sold into 185 territories including India (Nickelodeon) and EMEA (Disney). Produced with Corus Entertainment's Teletoon, the show follows an anxious ostrich dad and his eight runaway eggs. Squeeze's other originals include the animated short Monkey Beat.
The company was launched in 2011 by animation vets Denis Doré and Patrick Beaulieu.