Nahanni: River of Forgiveness among Hot Docs Forum picks
Four Canadian projects will be presented before a host of international commissioners at this year's event.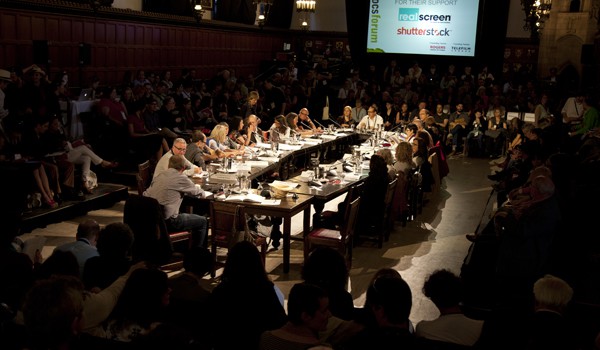 Geoff Bowie's Nahanni: River of Forgiveness and Jessica Earnshaw's Jacinta are among the Canadian and Canadian copro projects headed to this year's Hot Docs Forum, an international documentary market and pitching event.
All told, 19 projects from around the world were selected from more than 200 submissions. The docs will be presented to a round table of leading commissioning editors, film fund representatives, financiers, programming executives, sales agents and delegates during the mornings of May 2 and May 3. The selected titles come from 18 countries, and are helmed by 10 female directors and 25 female producers.
"The diverse selections for this year's Hot Docs Forum reflect critical stories and perspectives for global audiences," said Hot Docs industry programs director Elizabeth Radshaw in a statement. "The Hot Docs Forum is the first step to launching these voices into our international documentary community."
Commissioners confirmed to date will hail from such outlets as The ARTE, ARTE G.E.I.E, Al Jazeera, BRITDOC, Catapult Film Fund, CBC, SRC -Radio Canada, Chicken & Egg, Discovery Communications, Fork Films, Knowledge, The New York Times' 'Op-Docs,' ORF1 & ORF 2, NHK, PBS, Sundance Institute, SVT, TVO, yesDocu, YLE, Vice, VPRO, ZDF, among others.
For the ninth consecutive year, the Hot Docs-Corus Pitch Prize will award a $10,000 cash prize toward production and completion budget to the best Canadian pitch at the event, as determined by a committee of international commissioning editors.
The Cuban Hat Award will return to the 2017 Hot Docs Forum with all the money raised over the two-day event given to the observers' favourite pitch, as determined by ballot. The Entertainment One Mounties' Hat Pitch, meanwhile, will provide observers with the chance to secure a last minute presentation slot during the event, as determined by a business card raffle.
The 2017 Hot Docs Canadian International Film Festival runs from April 27 to May 7 in Toronto. The following projects will be presented at this year's Hot Docs Forum:
Blue Box
Production Companies: Norma Productions Ltd. (Israel), Intuitive Pictures (Canada), Breakthrough Films (Canada)
Director: Michal Weits
Jacinta
Production Companies: Endeavor Pictures LLC (USA), Shotglass Productions Inc. (Canada)
Director: Jessica Earnshaw
Nahanni: River of Forgiveness
Production Companies: 90th Parallel Productions Ltd. (Canada), Elan Productions Ltd. (Canada)
Director: Geoff Bowie
Untitled Jennifer Laude Documentary
Production Companies: Storytellers International (Philippines), Unraval Pictures (USA), Aynaku Media (Canada)
Director: PJ Raval
306 Hollywood
Production Companies: El Tigre Productions LLC (USA), Laokoon Filmgroup (Hungary), Preferred Content (USA)
Directors: Elan Bogarin, Jonathan Bogarin
93 Queen
Production Company: Malka Films LLC (USA)
Director: Paula Eiselt
After A Revolution
Production Companies: Met Film Production Company (UK), Huma Productions (Libya), EiE s.r.l (Italy)
Director: Giovanni Buccomino
Bisbee '17
Production Company: 4th Row Films (USA)
Director: Robert Greene
Chopped
Production Companies: Idioms Film (Palestine), HB PeÅ Holmqvist Film (Sweden)
Directors: Karam Ali, Casey Asprooth-Jackson
Fatima
Production Companies: Old Friend, LLC (USA), Filou Films (Pakistan)
Director: Fazeelat Aslam
I'm A Coda
Production Company: TEMJIN Co., Ltd. (Japan)
Director: Itaru Matsui
Rajada Dalka/Nation's Hope
Production Companies: Radio Film Ltd. (UK), Radio Film Ltd (USA), Inzo ya Bizizi (Republic of the Congo), Laika Film & Television AB (Sweden)
Director: Hana Mire
Lady of the Harbour
Production Company: Muyi Film (The Netherlands)
Director: Sean Wang
The Feeling of Being Watched
Production Companies: Multitude Films, LLC (USA), Watched Film, LLC (USA), Naked Edge Films Inc. (USA)
Director: Assia Boundaoui
The Infiltrators
Production Companies: Pueblo Sight & Sound (USA), Naked Edge Films Inc. (USA)
Directors: Cristina Ibarra, Alex Rivera
The Quest for Tonewood
Production Company: Norsk Fjernsyn AS (Norway)
Director: Hans Lukas Hansen
The Real Thing
Production Companies: Artline Films (France), Golden Girls (Austria)
Director: Benoit Felici
War Watchers
Production Companies: Drygas Production (Poland), Braidmade Films Ltd. (UK), Bekke Films (Belgium), MiroGraph LLC (Ukraine)
Director: Vita Drygas
The Watchmen
Production Companies: Little Big Story (France), Stenola Production Sprl (Belgium), GraffitiDoc (Italy)
Director: Madeleine Leroyer
From Realscreen