John Tory to promote Toronto film, TV industries in India
The Toronto mayor will participate in a keynote discussion with Deepa Mehta at the FICCI Frames media convention in Mumbai.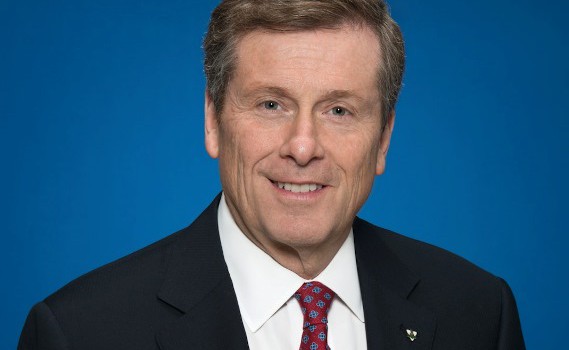 Toronto Mayor John Tory is set to embark on yet another trip to promote the city's film and TV industries. The mayor recently travelled to L.A. in an effort to drum up business for his hometown, and now he's heading a little further afield.
Mayor Tory will lead a mission to India and Sri Lanka from March 15 to 24 that will focus on increasing film, media, tech, financial and education investment in Toronto. The city had another record-breaking year in 2016, with more than $2 billion in production spend. A major driver of that growth was foreign investment in film and TV projects. However, most of that investment came from the U.S, according to a spokesperson for the Office of the Mayor.
"To keep the momentum and continue the positive the trend in investment and jobs for Toronto residents, the Mayor will look to bring Indian film productions to Toronto. The City has a number of agreements already signed with India's film industry, it is time we take advantage of them," Keerthana Kamalavasan, senior communications advisor at the Office of the Mayor, told Playback Daily. 
In 2015, the City and the Federation of Indian Chambers of Commerce and Industry (FICCI) signed a memorandum of understanding  (MOU) that called for mutual cooperation to advance the two signatories' interests in the screen industries. The agreement aimed to foster business partnerships between the two parties. The MOU was the first agreement signed by a municipality related to the 2014 coproduction treaty signed between Canada and India.
During his trip, Mayor Tory will participate in a keynote discussion with award-winning Canadian filmmaker Deepa Mehta at the opening of global media convention, FICCI Frames, in Mumbai. The duo will discuss Toronto as a film, TV and digital media destination. He will also hold private meetings with film companies attending FICCI Frames to encourage production in Toronto.
Mayor Tory will also visit New Delhi, Hyderabad, as well as Colombo and Jaffna in Sri Lanka. According to Statistics Canada data from 2011, the Greater Toronto Area is home to Canada's largest Indian, Sri Lankan and Tamil communities and is home to more than half of Canada's South Asian residents. While in Sri Lanka, the mayor will explore economic opportunities in the region and visit places of cultural interest to the Tamil community.
Joining the mayor on the business mission is Roger Nair, CEO of Roger Nair Productions and Lionheart Prodution House, as well as delegates from Rat Race Media, Seneca College and Ryerson University, among others.