Cirque du Soleil explores VR with Felix & Paul
The Montreal-based studio has partnered with the famed circus co. once again on a 12-minute virtual experience.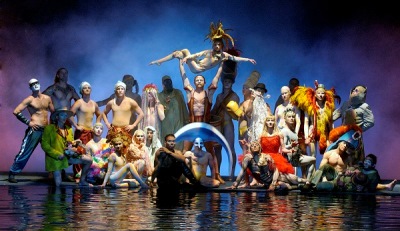 By Jose Gonzalez
Getting viewers up close to performers, famed circus company Cirque du Soleil and Montreal-based Felix & Paul Studios have joined forces to produce Dreams of O, a virtual reality experience directed by François Blouin, Felix Lajeunesse, and Paul Raphael.
This new experience launched on Samsung Gear VR, a platform running on Facebook's Oculus tech.
The 12-minute VR experience includes acrobatics, fire dancing, and strange amphibious characters. Based on the existing Cirque du Soleil stage show O, a resident stage show in Las Vegas, the digital executions put the viewer in a dark virtual world as the show's many performers approach the audience to unveil their unique acts.
"(VR) is a format to enhance the audience experience – whether they've seen the show or not. It presents the shows in a whole new light and gives our fans, as well as new audiences, access to unique views of the acts that the live show experiences feature," said Sébastien Ouimet, senior manager content, partnerships and distribution for Cirque du Soleil. "It is important to Cirque to maintain its position on the cutting edge, and we need to ensure we are targeting new audiences with the use of new technologies."
Cirque du Soleil previously partnered with Felix & Paul, which specializes in VR, for KÀ The Battle Within, which premiered at TIFF, and Zarkana experiences, and, like Dreams of O, are based on stage shows in Las Vegas.
Cirque and Felix & Paul have also partnered to create a VR version of Cirque's Kurios show, currently touring around the world.
Both the KA and Dreams of O VR experiences were available in the hotel lobbies of the Bellagio and MGM, respectively, in Las Vegas, from Jan. 2 to Jan. 8, complementing the corresponding resident stage productions already hosted in the hotel. All Cirque VR experiences, including Dreams of O, are also available as free downloads on the Occulus store.
"(They've) been a great promotional tool for our shows," says Ouimet.
"Our partnership with Felix & Paul Studios highlights Cirque's leadership in pushing the boundaries of creating outstanding immersive experiences. Virtual reality allows us to explore state-of-the-art platforms to complement our live show experiences," said Jerry Nadal, SVP of Cirque's resident shows division.
There are plans to transform one of Cirque's newer touring productions, Luzia, into a VR experience by this spring.
"To immerse viewers in the same ethereal, dream-like mood in an original VR experience, we combined simultaneous underwater and slow-motion shooting — a feat that required us to significantly modify our proprietary camera technology, merging the two techniques to more poignantly evoke the artistry, surrealism and theatrical romance of O," said Sebastian Sylwan, chief technology officer at Felix & Paul in a statement.
From Realscreen
Photo by Tomasz Rossa, from Cirque du Soleil press site