Cameras roll on Deep Six
The nine-part sci-fi web series is created by Mika Collins and Davin Lengyel.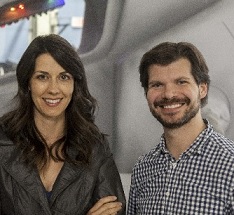 Production is underway in Toronto on sci-fi web series Deep Six, created by Davin Lengyel (right) and Mika Collins. 
The project, produced by Timshel Pictures' Danny Mendlow, Lengyel and Collins, follows a group of astronauts as they are sent on a perilous deep-space mission. However, the group lose contact with earth and are unprepared for their hostile first encounter.
There is no distributor yet attached to the series, which is tentatively scheduled for a spring 2017 release. The producers did not disclose the project's budget.
Lengyel is the co-creator of a number of other web series including Pure Pwnage and Space Janitors, which in 2014 won the Canadian Screen Award for Digital Media Original Program or Series, while Collins is a member of the writers' room on Netflix series Travelers and an alumnus of the CFC Prime Time TV program.
The series is produced with the support of the IPF, OMDC, William F. White International, Prime Focus Technologies and in association with Rampage Media Finance, Eggplant Picture & Sound and A71 Entertainment.
Deep Six stars Michelle Morgan, Mika Collins, Ginger Busch, Katherine Gauthier, Scott Yamamura, Adrian Griffiths, Olunike Adeliyi, Dwain Murphy, Andy Hull, Chris Ratz.