TIFF picks top 10 Canadian films of 2016
Mathieu Denis and Simon Lavoie's Those Who Make Revolution Halfway Only Dig Their Own Graves and Alethea Arnaquq-Baril's Angry Inuk are among the features selected.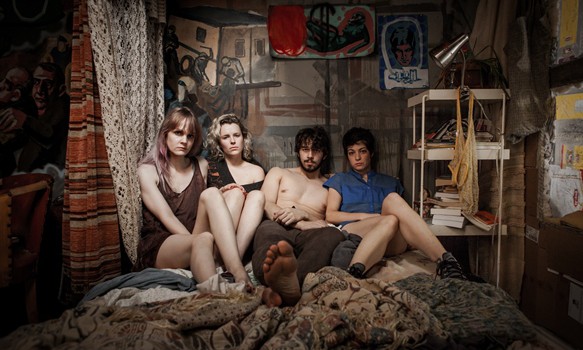 The Toronto International Film Festival has unveiled its Canada's Top Ten Film Festival selections, with films from across Canada added to the lineup.
The festival, which runs Jan. 13 to 26, 2017 at the TIFF Bell Lightbox in Toronto, will open with Zacharias Kunuk's Maliglutit (Searchers). The Nunavut-set film premiered at TIFF in the juried Platform program. Mathieu Denis and Simon Lavoie's Those Who Make Revolution Halfway Only Dig Their Own Graves (pictured), which also premiered in the Platform program, was also named to this year's top 10.
Joining those films in the lineup are Alethea Arnaquq-Baril's seal hunting documentary Angry Inuk; Kevan Funk's Prince George, B.C.-shot Hello Destroyer, which was acquired by Northern Banner ahead of its TIFF premiere; Xavier Dolan's Cannes winner It's Only the End of the World; Nathan Morlando's Mean Dreams, which is slated to hit U.S. screens in the first quarter of 2017; Anne Emond's Nelly; Johnny Ma's Old Stone; Ashley McKenzie's debut feature Werewolf, which was filmed in Cape Breton; and Ann Marie Fleming's animated feature Window Horses.
"I think [the list is] a reflection of the diversity of the Canadian film industry, of what's being made right now. We do have films from coast-to-coast-to-coast – from British Columbia to Nunavut to Nova Scotia. We've got a good mix of Anglophone and Francophone work and some work in Inuktitut as well," TIFF artistic director Cameron Bailey told Playback Daily.
While the festival provides a spotlight for some of Canada's best films and filmmakers, Bailey added that the Top Ten program, now in its 16th year, has always been about bringing the films to audiences.
"For decades, maybe forever actually, as long as there's been Canadian filmmaking there's been a struggle to get Canadian films to Canadian audiences," he said. "I believe Canadians do want to see their own stories and we see that in the success of Canadian literature, we see it in the success of Canadian music."
To bring these Canadian films to Canadian audiences, this year, the fest will tour to Vancouver's The Cinematheque (Jan. 13 to 22), Calgary's Globe Cinema (Jan. 13 to 22), Montreal's PHI Centre (Jan. 14 to 31), Regina's RPL Film Theatre (Jan. 19 to 22), Edmonton's Metro Cinema (Jan. 20 to 29), Saskatoon's Paved Arts in collaboration with the Roxy Theatre (Jan. 26), Winnipeg Film Group's Cinematheque (March 2017), Halifax's Atlantic Film Festival & Art Gallery of Nova Scotia at the Windsor Foundation Lecture Theatre (May 1 to 8), and Ottawa's National Gallery of Canada (dates TBD).
In the Canada's Top Ten Film Festival Shorts program Theodore Ushev's Oscar-shortlisted Blind Vashya made the list, along with Martin Edralin's Emma, Heather Young's Fish, Lee Filipovski's Fluffy, Rich Williamson's Frame 394, Emily Kai Bock's A Funeral for Lightning, Ben Petrie's Her Friend Adam, Thyrone Tommy's Mariner, Alexandre Dostie's Mutants and Terril Calder's SNIP.
The 10 student shorts selected are Étienne Lacelle's Les Beiges (Concordia University), Teryl Brouillette's Boys Will Be (Ryerson University),  Jessica Tai's Bumby the Barely-Witch (Emily Carr University of Art + Design), Olivia Lindgren's Drifter (Langara College), Sarah Kieley's Feathers (Sheridan College), Island (SAARI) by Ella Mikkola (University of Regina), The Land of Nod by Ivan Ramin Radnik (Humber College), My Invisible Mother by Pascal Huynh (Concordia University), Nothing Grows Here from Lauren Belanger (Ryerson University), and This is Not an Animation (Ceci n'est pas une animation) by Federico Kempke (Sheridan College).
For Bailey, the shorts program offers an important opportunity for TIFF to identify young Canadian filmmakers to keep an eye on. "We are trying to find new talent, which is why, for us, we always include in Canada's Top Ten, 10 short films as well. And for the last couple of years, [we've included] 10 student shorts, because we actually do see the next generation coming up through the short filmmakers," he said.
In 2014, for example, Kevan Funk's short film Bison made the list and now he's returned with a feature.
In addition to film screenings, the festival will commemorate Canada's sesquicentennial anniversary with free screenings and events tied to the Canada on Screen series, which features a curated selection of Canadian films.