Before the Streets wins big in Whistler
The debut feature from Chloe Leriche won awards for best Canadian feature and best director in the Borsos program.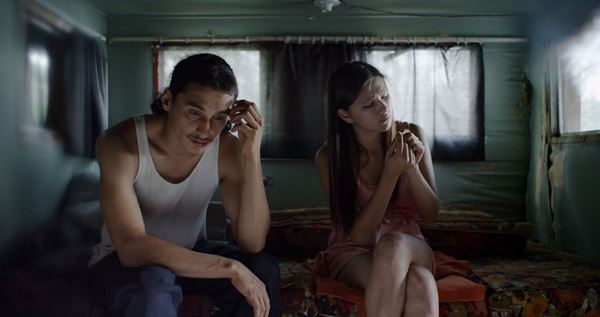 Chloé Leriche's debut feature Before the Streets ("Avant les rues") has netted the Montreal filmmaker the two top prizes in Whistler 2016′s Borsos competition.
The film (pictured), about a First Nations man who goes into a self-imposed exile after he commits an atrocious crime, won prizes for best Canadian feature as well as best director. The film was among 19 eligible for selection in the Borsos program, including Tyson Caron's Lovesick, Amy Jo Johnson's The Space Between, David Ray's Grand Unified Theory and Justin McConnell's Red Mile.
Also in the Borsos competition, actor Kawennáhere Devery Jacobs, who played the lead in Yellowknife-shot feature The Sun At Midnight, won the best actor prize, while the best screenplay prize went to The Cyclotron, written by Olivier Asselin and Lucille Fluet, and the prize for best cinematography went to Mathieu Laverdière, also for The Cyclotron. 
The jury for the best Canadian feature prize consisted of Deepa Mehta, Tzi Ma and Ingrid Veninger.
Elsewhere, the World Documentary Award was a tie, with both Fern ​Levitt's Sled Dogs and The Will To Fly, directed by Katie Bender and Leo Baker, sharing the distinction. The jury for the doc award included Avi Federgreen, Madeleine Grant and Roger Larry.
The Will To Fly also took home the Best Mountain Culture Film Award, while the Canadian ShortWork Award went to Alexandre Dostie's Mutants, the International ShortWork Award went to Juanjo Gimenez's Timecode and the ShortWork Student Award went to Gloria Mercer's Bombing.
Also in the shorts categories, Franck Dion's The Head Vanishes picked up the Best Canadian Screenplay Award. Last month it was announced that Canada/France coproduction was still in the running for an Oscar at the 2017 Academy Awards in the best animated short film category.
Other winners included B.C. filmmaker Ana De Lara, who won the MPPIA Short Film Award for Good Girls Don't Cry and Fern Levitt's Sled Dogs, which won the Best Female-Directed Documentary​ prize.