NCFD receives major government investment
With $3 million in provincial and federal funding, the 2017 event is poised to be the biggest single-day film fest ever held, according to event organizers.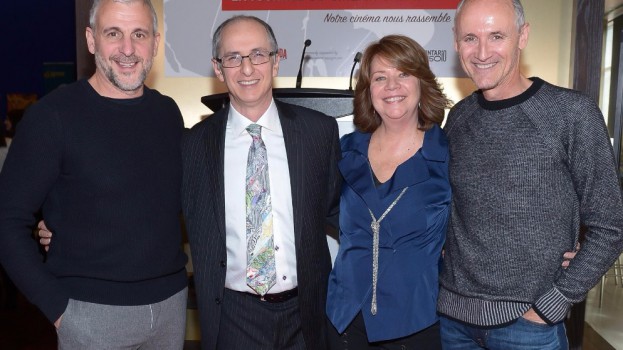 National Canadian Film Day (NCFD) has secured a significant investment for its Canada 150 edition, with the Government of Canada and the Government of Ontario pledging $2.6 million and $400,000, respectively, to the single-day festival.
NCFD 2017, which will take place on April 19, 2017, has been selected as one of the government's signature projects for the nation's sesquicentennial celebrations next year.
The announcement was made Monday at the TIFF Bell Lightbox by Reel Canada's co-founders Jack Blum and Sharon Corder. They were joined by Robert Lantos (who was named as co-chair of NCFD's advistory committee), the Honourable Eleanor McMahon, Minister of Tourism, Culture and Sport, Vinay Virmani, Liane Balaban and Bon Cop, Bad Cop 2 stars Colm Feore and Patrick Huard.
The 2016 edition of the event saw more than 350 event screenings take place across the country, with Blum saying next year's NCFD is tracking to more than double that with an estimated 800 screenings. In Ontario, there are scheduled to be screenings in more than 200 communities throughout the province.
"The province is pleased to provide, through Ontario 150, $400,000 in funding for this exciting initiative that will add to the incredible lineup of sesquicentennial programming in place, and inspire the next generation of filmmakers," said McMahon in her address at the TIFF Bell Lightbox.
Organizers said the expanded scope will make the event the largest one-day film festival ever held.
TIFF will present 150 free screenings throughout the country, via its Film Circuit program, on April 19, in addition to screenings in a variety of venues including military bases, restaurants, libraries, theatres and Canadian embassies worldwide. Outside of the April 19 event, Reel Canada will host the Indigenous Film Summit in Abbotsford, B.C. on March 6 and 7. The summit will take place over two days and feature screenings of Indigenous films, as well as workshops for 3,000 students.

Broadcast partners for the NCFD 2017 include CBC, Bell Media, Hollywood Suite, Corus, APTN and Quebecor Media, while distribution partners Entertainment One, Mongrel Media, Elevation Pictures and D Films.
Photo credit: George Pimentel Photography