WFF names talent lab participants
Amos Scott is among those selected for the Aboriginal Filmmaker Fellowship, with Sara McIntyre selected as a finalist for the Feature Project Lab.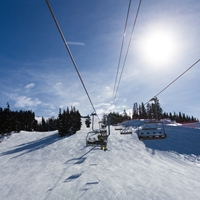 The Sun at Midnight producer Amos Scott and Gods Acre writer/director Kelton Stepanowich are among this year's finalist for the Whistler Film Festival Aboriginal Filmmaker Fellowship.
Scott, who hails from the Northwest Territories, was selected to participate in this year's program with Drum Song for the Soul,  while Alberta's Steponowich was selected for his Breaking Character. Joining them in the program are Alberta's Daniel Foreman with Raven and the Sea Wolf and  Ontario's Kawwennahere D. Jacobs with Rae. 
The finalists for the fellowship will participate in a four-day immersive program from Nov. 30 to Dec. 4 during the film festival. Over the course of the program, mentor filmmakers will provide the finalists with feedback on their short film, webisode or TV pilot script projects, with a goal of strengthening and advancing the projects.
Mentors and guests who will participate in the program are Adam Piron, manager of the Native and Indigenous Film Program at the Sundance Institute; Jeremy Torrie, writer/director/producer at High Definition Pictures Inc.; Chloé Leriche, writer and director of Before the Streets; Allan Hopkins, writer and director of Indian Road Trip and Mary Galloway, writer and director of Unintentional Mother. 
Advisors of the program include Valerie Creighton, president and CEO of the Canada Media Fund; Brendon Sawatsky, director of programming at NSI; Monika Ille, executive director of programming and scheduling, APTN; and Tania Koenig-Gauchier, manager of programming, Western Region, APTN.
WFF has also announced the finalists of for both the Feature Project Lab and Praxis Screenwriters Lab. The finalists are now moving on to the second phase of the programs, which takes place over the course of the festival.
The feature lab finalists are Ontario's Harry Cherniak with Little Kings, Quebec's Joe Balass with Calorie, Two Indians Talking director Sara McIntyre, from B.C., with The Last Six, Ontario's Jessica Adams with My Heart is in my Head; Manitoba's Jeremy Torrie with Old Magic, and B.C.'s Jon Ornoy with Comedienne. 
Facilitators of the lab are Peter Wetherell, president of Magus Entertainment and Berry Meyerowitz, president of Rocket Dog Media Inc. Participants will be mentored by Marcin Janowski, Global Entertainment Marketing and Publicity at International Film trust.
The screenwriters lab finalists are Ontario's Dusty Mancinelli with Little Kings, B.C.'s Allan Hopkins with Indian Road Trip, B.C.'s Elisa McRae with Colour Me Jane, B.C.'s Titus Henckel with Chaos Theory, B.C's Sandy Yates with Red Serge Duty and Alberta's Ashley Fester with The Long Way Home. 
The program facilitator is Patrica Gruben, director of the Praxis Centre for Screenwriters and mentors are screenwriters Ruth Atkinson (Jessica Jones) and Michael Miner (RoboCop), as well as director/screenwriter Andrew Currie (Fido).
The Hi5 Short Film Challenge participants were also announced. The challenge sees five finalists from B.C. selected to produce a five-minute short in five days. The short will premiere online and be voted on by fans and a jury, with the winner receiving a $6,800 Canan camera prize. This year's finalists are Joel McCarthy's Fathers and Son, Sharai Rewels Binary Lullaby, Michael Chen's The Moon and the Stars, Krista Rand and Orsy Szabo's Authentic Kids and Athena Russell's Hi Five Goodbye. 
The competition will be juried by DP Sarah Thomas Moffatt, Letterkenny producer Peter Harvey, and producer/director of The Tempest Storm, Nimisha Meukerji.