The Bell/VMedia kerfuffle explained
We break down why the cable co took the internet provider to court, and what it might mean for providers going forward.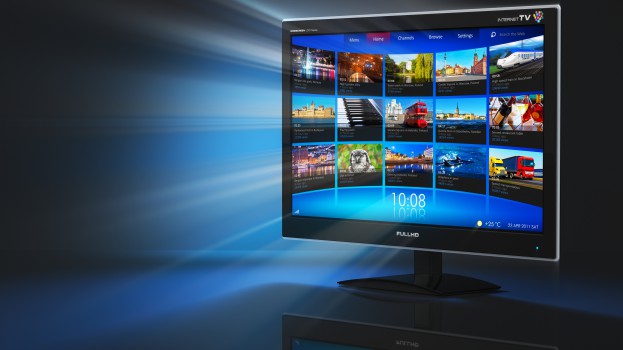 The idea of web-based services rebroadcasting Canadian channels is not a new one.
As far back as 16 years ago, a Canadian website called iCraveTV launched an early-to-market service that streamed TV programming online. While iCrave's time was short-lived – the site was closed down in 2000 after the U.S.'s Twentieth Century Fox Film Corporation took it to court – the stir it caused brought about an amendment in the Canadian Copyright Act.
Under the revised regulations, which remain to this day, the rules draw a distinction between companies that are deemed as "retransmitters" (companies that have a broadcast distribution licence and are legally permitted to retransmit signals, such as Bell and Rogers) and "new media retransmitters" (which are not allowed, by law, to retransmit signals). 
And herein lies the dispute between Toronto-based VMedia and Bell Media, with Bell last week sending a cease-and-desist letter to VMedia requesting the Toronto-based company remove CTV and CTV Two from its app-based TV streaming service, VMedia TV, which is available on all Roku televisions and Roku streaming services. The service launched on Sept. 16 and costs $17.95 per month.
In its filing, Bell Media says it entered a multi-platform content distribution agreement with VMedia in June last year, allowing the "authenticated distribution" of CTV and CTV2 to subscribers of VMedia's licensed BDU service. With this, Bell has no issue. What Bell does take issue with is VMedia's TV streaming service. Of this, Bell says "the Agreement does not permit VMedia to offer the content to users who are not subscribers of [VMedia's] licensed BDU service or otherwise on an unauthenticated (also known as "over-the-top") basis."
VMedia has also received a number of "serious-sounding letters" from other Canadian companies aside from Bell, according to VMedia's marketing and operations head Susan Hershman. 
Bell says VMedia is retransmitting signals illegally and earlier this week issued this statement to press: "VMedia is distributing CTV and CTV Two signals outside of its licenced broadcast business and without Bell's consent. It's a clear copyright violation and we asked them to stop. They refused, so we're asking for a court injunction to end the copyright infringement."
VMedia meanwhile takes the view it is operating within the law because it is a company that holds a broadcast distribution licence in Canada, said Hershman.
Hershman alleges there is no loss in revenue for Bell, and indeed says it will help draw more eyeballs and viewers to Bell advertisers. Bell did not respond to a request for comment on this point.
Beyond the Bell Media-issued statement shown above, the company is not commenting publicly on the matter at this time. However, Bell's filing with the Ontario Superior Court of Justice claims that VMedia's platform is "damaging the value" of its television service subscriptions. The filing also states: "VMedia's conduct in this regard exposes Bell to irreparable harm which is not compensable by damages, including by way of permanent market loss, irrevocable damage to business reputation, and causing Bell to violate the exclusive licences that permit it to broadcast much of its programming."
Michael Hennessy, media consultant and former president and CEO of the CMPA argues that if retransmission was extended to streaming it would have serious implications for producers and creators, as well as broadcasters, regarding the protection of IP.
"Extending signal retransmission to streaming would totally erode all geographic borders and would simply make a mockery of the ability of producers and broadcasters to exploit the rights. And if producers and broadcasters can't exploit the rights, then there's a flow down that goes right the way down to the creatives, who are compensated through collective agreements."
Bell would encounter a great deal of push back from U.S. broadcasters as well, which are equally as interested in protecting the rights to their programming, added Hennessy. "There's absolutely no compensation for [U.S. broadcasters] either under what VMedia is proposing to do," he said.
Ultimately, Hennessy said he believes Bell Media will be favoured when the eventual decision is made. "To me, it's way offside. I see nothing that I would disagree with in Bell's argument," he said.
Broadcast lawyer and consultant Peter Miller, who is also the former chairman of Interactive Ontario, says he sees the case as being a close one in terms of interpretation of the law.
"It's a very interesting legal issue. Looking at it under the Broadcasting Act, both arguments make sense," said Miller.
This is an example of a smaller Canadian company trying to find a middle ground between OTT services and the conventional cable system, he added.
"We're seeing a spectrum of what is television. This is an attempt by a small player to bridge what is right now two very different poles. We have OTT services, both Canadian and foreign, such as Netflix, CraveTV, and we're going to lose Shomi, and then we have the cable system. We don't have very much in between."
The ramifications of the eventual decision will be significant for the industry at large, said Miller, with a Bell Media win representing a retention of the status quo and the BDU landscape as we know it, while a VMedia win could amount to a significant shakeup of the market. Should the latter occur, Miller said "it will allow services like VMedia to compete directly with the likes of Rogers and Bell as BDUs, but with no infrastructure [by using the public internet to get TV signals]. So you'd end up with a far more competitive BDU market."
"It goes without saying that the majors are for the first time facing competition from the smaller players so, whereas in telecommunications where we've had a history of small companies competing through the resale of telecommunications infrastructure, we haven't seen much of that in the broadcasting space with the delivery of TV signals," he added.
A trial date has not yet been set.
Updated: Oct. 11, 11:55