Bron Studios to coproduce Monster
Production is underway on the drama about a teen charged with murder. (Star Jennifer Hudson pictured.)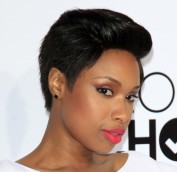 Vancouver's Bron Studios is teaming with New York-based Tonik Productions and L.A.-based Get Lifted Film to produce Monster, a feature film based on a novel by American author Walter Dean Myers.
Production on the drama began Saturday in New York.
Monster is being jointly financed by Charlevoix, Red Crown and Creative Wealth Media as well as Tonik, Bron and Get Lifted.
Written by Colen C. Wiley and Janece Shaffer, Monster is the debut feature from commercial/music director Anthony Mandler, who has directed music videos for Rihanna, Jay Z, The Killers, The Weeknd and Drake.
The feature tells the story of 17-year-old Steve Harmon whose life falls into ruin when he's charged with murder.
The film is produced by Bron Studios founder Aaron L. Gilbert, Get Lifted Film's Mike Jackson, Tonik Productions' Nikki Silver and Tonya Lewis Lee and Charlevoix's Edward Nahem.
Monster stars Kelvin Harrison Jr., Jennifer Hudson, Jennifer Ehle, Tim Blake Nelson, John David Washington and Jeffrey Wright. Executive producers on the project include hip-hop artist Nas, Red Crown's Daniel Crown and Yoni Liebling, Creative Wealth's Jason Cloth and Richard McConnell, Linnea Roberts and Get Lifted Film Co's John Legend.
Image: Shutterstock