Ottawa Int'l Animation Festival winners announced
Projects from Theodore Ushev and Jean-Francois Laguionie were among the winners at the 40th edition of the OIAF. (Louise en hiver pictured.)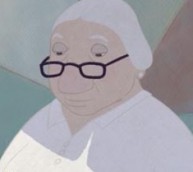 The Ottawa International Animation Festival (OIAF) announced its winners Sunday, with Jean-François Laguionie's Louise en hiver, Theodore Ushev's L'Aveugle, Vaysha ("Blind Vaysha") and Diane Obomsawin's J'aime les filles ("I Like Girls") among the Canadian projects to pick up prizes at the event's 40th edition.
Canada/France co-production Louise en hiver claimed the grand prize for Best Animated Feature, while Ushev's Blind Vaysha (Canada) won both the Cartoon Network Award for Best Narrative Short Animation and the Canadian Film Institute Award for Best Canadian Animation.
J'aime les filles (Canada), directed by Montreal filmmaker Obomsawin, also picked up the Nelvana Grand Prize for Independent Short Animation, while Nicolas Brault's Squame (Canada) won the Best Sound prize.
Elsewhere, Ryo Orikasa's Suijun-Genten ("Datum Point") (Japan) took the award for Best Experimental or Abstract Animation, Marta Magnuska's Cialo Obce ("Foreign Body") (Poland) won the Best Undergraduate Animation prize and Evgenia Gostrer's Frankfurter STR 99 (Germany) won the Walt Disney Animation Award for Best Graduation Animation.
In addition, Jay Grace's Shaun the Sheep: The Farmers Llamas (U.K.) won the award for Best Animated Series Made for Young Audiences, and Three Little Ninjas Delivery Service (Belgium), from Karim Rhellam and Kim Claeys, took home the trophy for Best Short Film Made for Young Audiences.
The OIAF received 2311 entries from 86 different countries this year, with 80 short films and seven features selected for the competition program.