Maudie, Perfume War win Atlantic Film Festival prizes
The Ireland/Canada copro (pictured) and feature documentary were among the Canadian projects awarded at the 36th edition of the festival.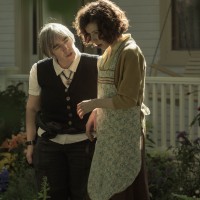 Aisling Walsh-directed Ireland/Canada copro Maudie and Michael Melski's documentary Perfume War were among the winners at the 36th edition of the Atlantic Film Festival (AFF).
Maudie, produced by Landscape Films, Dublin's Parallel Films and Toronto's Solo Productions, won the The Gordon Parsons Award for Best Atlantic Feature, while Perfume War, produced by Halifax's Loud Baby Productions, claimed the Best Atlantic Documentary award. Penned by Newfoundland writer Sherry White, Maudie is produced by Solo Films' Mary Young Leckie, Rink Rat Productions' Mary Sexton, Parallel's Susan Mullen and Storyscape Entertainment's Bob Cooper. Executive producers on the project are Heather Haldane for Painted House Films, and Alan Moloney and Johanna Hogan for Parallel Films.
Mary Sexton for Newfoundland's Rink Rat Productions,

Other award winners include Barry Jenkins for Moonlight (U.S.), which won the 2016 People's Choice Award, and Struan Sutherland's Rubbed the Wrong Way for Best Atlantic Animation.
In the individual categories, Ashley McKenzie won the best director prize for her debut feature Werewolf, screenwriter Sherry White won the Michael Weir Award for her work on Maudie and Craig Norris, who worked on Kokota: The Islet of Hope, won the best cinematographer award. In addition, Brad Sayeau won the best editor award for We're From Here and indie rock group Hillsburn won Best Atlantic Original Score or Song for A Band Becomes. 

In the short categories, Halifax-based filmmaker Koumbie won the Best Atlantic Short prize for Hustle & Heart, and Alan Collins' My Life So Far won the award for Best Atlantic Short Documentary.
Elsewhere, Mary Lewis won the Telefilm Canada Script Pitch competition for her adaptation of Lisa Moore's novel February, while Bhreagh MacNeil and Andrew Gillis won the best actress and best actor prizes for their respective performances in Werewolf.
The 2016 edition of AFF ran from Sept. 15 to 22.